4th VP Choice Awards co-presented by itel
The eagerly anticipated VP Choice Awards (VPCA) has come back bigger, brighter, and with more surprises than ever.
VP Choice Awards is the country's most engaged award-giving body produced by Red Entertainment, Inc. and Village Pipol. With a month duration for Pipol to choose their favorites, the voting period will last from February 10 to March 10.
Additionally, the following criteria will determine the victors: 50% combined VP Choice Awards and Village Pipol Facebook shares, 30% editorial team, and 20% from the panel of experts. Only the best from the travel, lifestyle, entertainment, and business industries will gain prestigious recognition.
Moreover, the VPCA 2022 introduced almost 100 awards, welcoming the theme Supernova: Our Brilliant Burst of Light. It signifies the time to embrace a burgeoning blast and champion luminous explosion after an era of compromise brought on by the health crisis.
For its fourth edition, the reliable itel co-presents the VP Choice Awards 2022.
4th VP Choice Awards co-presented by itel
Undoubtedly among the brands' most favored in the ever-changing commerce platform, itel has been running for over a decade. It adopts the motto "Enjoy Better Life," aiming to provide everyone with cost-effective electronic and lifestyle products.
In the Philippines, itel entered the domestic market in 2018, five years after its founding in 2013. With continuous expansion and innovation, it has since established a reputation as a competitive brand trusted by local consumers.
Moreover, in more than ten years in service, itel has increased its global footprint by penetrating over 50 emerging markets worldwide, ranked No. 1 Global smartphone Brand under $100, and No.1 Featured Phone Brand. Its product portfolio includes smartphones, electrics, accessories, and home appliances.
Hence, due to its philosophy of promoting democratized technology and consumer connectedness, itel is a deserving collaborator.
Meanwhile, the 4th VP Choice Awards will finally mark the resume of its live ceremony. The awards night will be held on March 29 at the Glass Garden Evangelista Avenue, Pasig City.
Who will reign as prime and supreme? The choice is all up to you, Pipol!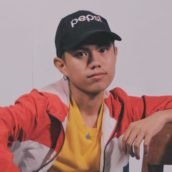 Renzneil Robles
Renzo is an introvert who prefers to do things at his own pace. Unlike most writers, he reads lazily. Watching Korean dramas at night is his constant source of comfort. Although oftentimes commended for being outspoken, he speaks better through writing than with his words.