Get to know the 2022 VP Choice Awards panel of judges
The 2022 VP Choice Awards with the theme Supernova: Our Brilliant Burst of Light is fast approaching.
VP Choice Awards remains the most engaged award-giving body in the country, produced by Red Entertainment, Inc. and Village Pipol. The highly anticipated event revealed more surprises in its bigger return, including the nearly 100 awards introduced for its fourth edition.
Meanwhile, the voting period will occur from February 10 to March 10, giving the Pipol a month to choose their favorites. Only the best and brightest will be honored from the travel, lifestyle, entertainment, and business industries.
Furthermore, selecting the winners will employ the following criteria: 50% will come from the combined VP Choice Awards and Village Pipol Facebook shares. The editorial team represents 30%, while the opinion of the panel of experts will decide the remaining 20%.
This year, another set of professionals and craft masters compose the VPCA board of judges. Let us meet them!
VP Choice Awards 2022: The panel of judges
Albert Bryan Abelido
Albert is a showbiz and lifestyle blogger and YouTuber more popularly known as Chikkaness. He is behind the page thechikkaness.com and the YouTube channel Chikkaness Ave, with over 630,000 subscribers. Through these platforms, he produces the hottest local and international updates, which he will use as an advantage as part of the jury.
Dr. John Alex Glenn Crespo
Besides being a dentist specializing in orthodontics and cosmetic dentistry, Dr. Crespo is an individual actively participating in humanitarian works. He is a pioneer member of the Rotary Club of Makati Ayala Amity and the board director of the Ayala Amity Lions Club 101. With his years in service, he will provide essential insights at the 2022 VP Choice Awards.
Justine Montas
Justine is a seasoned blogger with almost a decade of experience in the entertainment scene. Thus, he has met with innumerable personalities and has covered prominent events related to lifestyle, television, films, and theater. With the perfect combination of his upbeat personality and keen sense of spotting trends, he surely knows his way regarding showbiz.
Kyra Custodio
A Pinoy Big Brother 2010 Teen housemate, Kyra is an actress with frequent appearances on ABS-CBN Network. She participated in many programs, including Princess and I, Angelito: Batang Ama, Pangako Sa'yo, Dolce Amore, and Make It With You. As Kyra currently ventures into entrepreneurship, she has her passion and pristine viewpoints to offer the VPCA.
Mark Rosales
Mark Rosales is a sought-after celebrity hairstylist. He is the owner and chief creative director of Marqed Salon, with expanding branches all over Metro Manila. In his career, Mark has worked with several thriving showbiz stars of this generation. Hence, the 2022 VP Choice Awards need his experiences in the industry.
Martin Penaflor
When it comes to identifying the pulse of the Pipol, Boss Martin is an adept candidate. He is the founder and CEO of the market research and analytics company, Tangere. Aside from that, Martin has won many awards in his over 13 years career, including Asia Leaders Awards 2019 and ASEAN Startup Awards 2020. VPCA is pleased to benefit from his prowess.
Peter Jan Icogo
The gadget coach of GIZGUIDE PH, Peter is the founder of one of the country's most trusted technology-based websites. His page has provided the public with the latest news, gadget reviews, and helpful tech tutorials. Peter will offer VP Choice Awards his practical and honest opinion using his knowledge of technological trends.
And there you have the panel of experts for the 2022 VP Choice Awards! Have you voted for your favorite yet? If not, see the official list of nominees here and know how your bets can win.
The #4thVPChoiceAwards is presented by Casino Filipino and co-presented by itel and FLEEK.
Our sponsors: Evnia, Tea Ni Juan, Chow Panda – Dimsum, and Bayong Republic.
Our partners from media: The Manila Times, BusinessMirror, BusinessWeek Mindanao, Mindanao Daily News, The Market Monitor, BMPlus, PILIPINO Mirror, Cagayan de Oro Times, The Post, Maharlika TV, WhenInManila.com, Blogapalooza, GIZGUIDEPH, Orange Magazine TV, Iconic MNL, and A2z.
Don't miss out as VPCA resumes its live ceremony on March 29 at the Glass Garden Evangelista Avenue, Pasig City.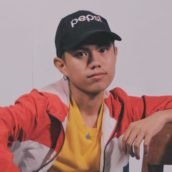 Renzneil Robles
Renzo is an introvert who prefers to do things at his own pace. Unlike most writers, he reads lazily. Watching Korean dramas at night is his constant source of comfort. Although oftentimes commended for being outspoken, he speaks better through writing than with his words.