The VP Choice Awards 2022 is here!
Attention, Pipol! VP Choice Awards (VPCA), the number one gathering and most engaged award-giving body in the Philippines, has come back bigger, brighter, and more spectacular.
VPCA is presented by Village Pipol Magazine, your ultimate guide to the big city. With a 74M reach on Facebook last year, it remains an unrivaled event of its kind.
On January 13, the VP Choice Awards 2022 released its official list of nominees for more than 90 categories introduced for its fourth edition. Our commitment will continue to merit the Pipol's favorite from the travel, lifestyle, technology, business, and entertainment industries.
In addition, the voting period will take place from February 10 to March 10. In determining the winners, the following criteria will be used: 30% from the VP Choice Awards' Facebook shares, 20% from Village Pipol's Facebook shares, 30% from our editorial team, and the final 20% from the deliverance of experts panel.
This year's installment also welcomes the theme "Supernova: Our Brilliant Burst of Light." It signifies the time to embrace our burgeoning blast and champion our luminous explosion— the brilliance in our bursting light.
Moreover, following two editions held virtually, VPCA will finally resume its live ceremony! The awards night will be held on March 29 at the Glass Garden Evangelista Avenue in Pasig City.
Produced by Village Pipol and Red Entertainment, the VP Choice Awards 2022 is co-presented by Itel and Fleek. This year's sponsors are Evnia powered by Philips, Bayong Republic, Tea Ni Juan, Jacko's Burger, and Dimsum Panda.
Meanwhile, our media partners are GIZGUIDEPH, blogapalooza, Mindanao Daily News, and Business Week. We are also partnered with The Manila Times, Cagayan de Oro Times and Orange Magazine.
For details and more of our surprises, be sure to follow Village Pipol and VP Choice Awards on Facebook. The choice is yours, Pipol!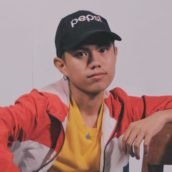 Renzneil Robles
Renzo is an introvert who prefers to do things at his own pace. Unlike most writers, he reads lazily. Watching Korean dramas at night is his constant source of comfort. Although oftentimes commended for being outspoken, he speaks better through writing than with his words.