Special occasions like birthdays, anniversaries, or this upcoming Valentine's Day are perfect dates to show your love to your partner. If you're planning a special celebration soon, this may give you a good idea. Resorts World Manila now has Vubble Pods for this purpose. What exactly are they?
Intimate and al fresco dining with your loved one
As the world transitions into new normal, many sectors are coming up with innovative ideas to keep their business running. Most restaurants that are operating nowadays have taken actions to implement social distancing measures. Some have limited the number of dine-in customers while others added seating instructions.
But RWM took things to another whole new level with Vubble Pods, a transparent and elegant structure. You can see these pods along the hotel's poolside since their purpose is for dining or other recreational activities.
A fine dining experience that is safe and romantic
The hotel management equipped each of the Vubble Pod with a portable air-conditioner. Aside from that, they claim that it has good ventilation because of open-top and windows. Based on an interview, RWM Chief Operating Officer Stephen Reilly guaranteed that their pods are up to international standards, and are constantly sanitized and kept clean.
Allegedly, there are currently six pods set up per hotel. If you have a plan to book one for a romantic evening or a double date, note that each pod allows only up to four people.
The food also depends on the hotel that the structure is located. Sheraton offers a special curated five-course meal and spa massage starting at PHP 5K per person. Meanwhile, Hilton will provide guests with a three-course wine pairing experience. Hilton's set menu options include 'a classic surf and turf entree of garlic butter prawns and ribeye steak or BBQ grilled tiger lobster.' It also includes a main of Tomahawk Steak for two.
This set is worth PHP 10,000 for two. You will have to add an additional PHP per person for groups of up to four diners.
The pods are now available for hotel guests and walk-in clients on a daily basis. You may also opt to book one for a whole day. For booking inquiries, contact Sheraton Manila at 0917-859-7458, or Hilton Manila through 0917-893-7664.
You can also visit Resorts World Manila's website for more information.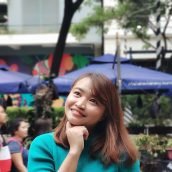 Queenie Lastra
Queenie Lasta got her bachelor's degree in Communications Research from UP Diliman. In her free time, she likes to read thriller novels, psychology books, and mangas. She believes in the importance of grit, hard work, and passion to become a great writer in the future.