A month ago, Kapamilya actress Bianca King tied the knot with Ralph Wintle, the brother of Iza Calzado's husband Ben Wintle. The simple yet elegant ceremony happened right in their living room in Sydney, Australia. Does this mean she's moving to Australia for good?
Bianca King slowly takes a rest from the limelight
Bianca began her showbiz career on a teen-oriented TV show in 2004. She is best known for playing the role of Noemi Manansala in the thriller drama series Sinner or Saint. She also starred as Aviona in the hit fantaserye Mulawin. In her first lead prime time soap Luna Blanca, she played the role of Luna. Eventually, she transferred to ABS-CBN in 2017. After that, she became a part of ABS-CBN's dramas Pusong Ligaw and Halik. After filming her show two years ago, the actress took a lie low from the limelight. Now, she is pouring her time and effort into content creation, her own business. She's also enjoying the bliss of being newly married.
But some are curious why she is leaving her acting career in the Philippines and settling there. But, Bianca made a clarification that she has only moved there temporarily.
"As soon as we can travel we're both gonna go back and [decide] where it is that we really want to settle. Right now, it's great to be in Australia but admittedly my heart is in the Philippines and it's hard to be away from our friends and family."
Venturing into something long term and stable
According to the actress, she decided to make room for other ventures other than acting. She said that after the show Halik, she only accepted one MMK episode. Her goal is to find something else to do that is long-term and stable. She further added,
"But to be honest I don't want to be in the rat race anymore, I'm not trying to compete with anyone. I just want to do projects that are really special, and if that comes along, then I'm just gonna have to tell Ralph well you have to stay with me in the Philippines for a few months because I'm doing a show."
Speaking of a new venture, Bianca is now focusing on her new business. She is now the CEO of a sustainable lifestyle brand Made Mindful. This is a fresh experience for her since it's not related to her other businesses like the yoga studio and restaurant. Sad to say, these two businesses closed down due to the pandemic.
"I've been through a lot of failures in business but I still gambled again. But with those, I wasn't as hands-on as I am right now. Manufacturing is a completely different animal compared to those businesses."
Made Mindful as a product of her own skin's journey
Bianca got the inspiration to build the brand Made Mindful from her own experience. Before, she struggled a lot in finding products that did not trigger her perioral dermatitis. She had to avoid anything with synthetic fragrance and dyes.
"I had it really badly for a year. It's when you have rashes around your nose and your mouth. And then, I had dandruff of the face that you could see on my eyebrows, they were flaky and red. I had to stop working when it would flare up."
Even though the business is her priority now, Bianca King admits that she still wants to do acting. So in conclusion, she's never fully leaving showbiz. She said that she'll re-appear every now and then, even if she has kids already. She explained,
"I invested 16 years of my life creating a name, learning all the skills, [building the network], so I really don't take that for granted."
Best of luck, Bianca King!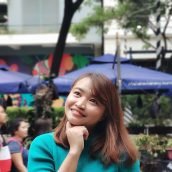 Queenie Lastra
Queenie Lasta got her bachelor's degree in Communications Research from UP Diliman. In her free time, she likes to read thriller novels, psychology books, and mangas. She believes in the importance of grit, hard work, and passion to become a great writer in the future.