Canon is one of the most popular camera manufacturers after launching several high-quality DSLRs and mirrorless cameras. However, the brand drew flak after revealing a list of all-male ambassadors in our country. So what's the issue all about?
Netizens enraged at Canon PH's all-male ambassador program
Sausage-fest ambassador program?
About a week ago, Canon Philippines started announcing a list of renowned photographers to be the face of its brand for this year. It aims to feature the profiles of photographers working in various fields such as advertising, wedding, fashion, and photojournalism.
As the camera brand gradually unveiled the list, it became clear to Canon's fans that the group will only have male photographers. The line-up for the Canon Crusader of Light Brand Ambassador Program is the following: Jun Miranda, Wig Tysmans, Edwin Martinez, Jijo de Guzman, Ian Celis, Doc Marlon, Jay Tablante, Pat Dy, Wesley Villarica, Jilson Tiu, and Per-Andre Hoffman.
Several netizens called out Canon for its lack of inclusivity
As a result, the angst and negative reactions spread on social media towards Canon. The move solicited a lot of opinions from photographers, influencers, celebrities, and ordinary people. A popular blogger Tricia Gosintian commented that she was glad that she quit Canon a long time ago.
Pau Villanueva, a non-binary photographer, said that the brand campaign serves as a reminder of how men dominate norms. She added,
"Canon as a brand has a huge influence and impact, but I think they did not use their influence the right way. It affects the industry, especially the photographers who are just starting out."
Meanwhile,  Niña Sandejas explained that more female representation will have a positive effect on their work and job security. The Pinay music photographer said that there's always been a stigma that hiring women is a disadvantage because of stereotypes.
This week, Miss Universe 2015 Pia Wurtzbach used the power of social media with her 12M followers on Instagram to question the lack of inclusivity in the campaign. She wrote in the comment section under Canon's IG post:
"No hate to the chosen ambassadors but why is there no room for inclusivity? How were the ambassadors chosen? Based on what? Not hating on the ambassadors but the marketing team should fix this asap."
As a consequence, Canon Philippines issued a statement of apology regarding the ambassador program. The brand humbly addressed its mistakes and appreciated the criticism. The company noted in the last part,
"Please continue sharing your opinions with us, so we can improve and grow better, with you."
Despite this statement, outcry continues due to non-apology.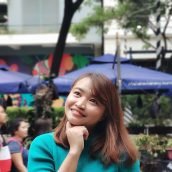 Queenie Lastra
Queenie Lasta got her bachelor's degree in Communications Research from UP Diliman. In her free time, she likes to read thriller novels, psychology books, and mangas. She believes in the importance of grit, hard work, and passion to become a great writer in the future.