To represent our beloved country in the international arena has become a dream for many Filipina beauty pageant contestants. However, the journey to the crown never comes as smoothly they have imagined. Of course, it comes with obstacles, self-doubt, and criticisms. In an interview with Kimberly Anne Tiquestiques, we get to know how strong-willed and passionate this Bulaceña stunner is.
Kimberly Anne Tiquestiques rises like a queen above failures and difficulties
Kimberly won her very first pageant at the age of 16 as Reyna ng Balagtas. Four years after that, she Binibini ng Bulacan. This young woman cherishes her failures much as her success since they are always part of her journey. Kimberly's passion to represent Bulacan in Binibining Pilipinas all goes down to her experience. She wants to share and inspire other people through my life's hardships and triumphs. She told us in the interview that the preparation focuses on all aspects.
"Because in life, Sometimes I win, sometimes I learn, but it will never stop me from achieving my dream. In every failure, I take it as a no from above because He is preparing something big for me. That's why I never stopped and I trust him and his will. Always remember, We can take a break and have some space but always come back and continue the race."
For Kimberly, the most challenging part is financial or budget stability. The ongoing pandemic has a big impact, including on the contestants. However, she said that she's lucky because her support system assists and believes in her dream. Moreover, her team helped her prepare for the pasarela, communication skills, projection, body workouts, and more. For them, there's still something more to improve. Kimberly recalled that she also had a memorable experience as a pageant contestant.
"Because every day is an opportunity to grow and slay."
On being an instrument in spreading beauty, love, and happiness
During the Operation Smile activity, she got to know Blessi, a child with a cleft palate.
"Even though with her situation she still managed to smile and be happy even in small things. These children are truly warriors and God's precious gift. And that experience gives me a realization, no matter what we have o what we are facing, there will always a reason to smile and spread happiness to the world."
We also asked Kimberly about her opinion regarding racist remarks against Miss Canada Nova Stevens. Saddened by thought, she thinks that these actions reflect that society still not know how to appreciate and respect beauty and diversity.
"Each and every one of us is a masterpiece from above, we are all unique and special in our own ways. We need to be sensitive in every word that we utter. Stop spreading hurtful words and start sharing the word of love. Because that is the only time we can live in a world full of positivity and happiness."
As a beauty queen, she plans to raise awareness about this issue through the use of social media. She said that social media has a big impact so she can use it as a medium in inspiring others to show love and stop the hate. In these modern days, Kimberly shares her opinion about the essence of a Miss Binibinang Pilipinas. She aims to showcase the authenticity of Filipina Women.
"Because nowadays, we sometimes forget to show who we really are, we become artificial and pretentious, without realizing that you, yourself is amazing because of your authenticity. And Binibining Pilipinas gives us a platform not just to have the voice to share our own story, but also to amplify other people's voice, to show the whole world, that we, Filipinas, are Authentic."
Photographer| Jai Murcillo
Words by |  Queenie Lastra
MUA|  Paige Seneres 
Hair Stylist |  Jericho Valenzuela
Stylist|  Jowie Namayan
Designer|  Job Dacon
Shot in|  Village Pipol Studio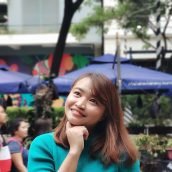 Queenie Lastra
Queenie Lasta got her bachelor's degree in Communications Research from UP Diliman. In her free time, she likes to read thriller novels, psychology books, and mangas. She believes in the importance of grit, hard work, and passion to become a great writer in the future.