Iza Calzado relives 'sanggre' days in maternity shoot
Photos from Iza Calzado (Instagram)
Filipina actress and expectant mother Iza Calzado on Thursday reminded everyone of her "sanggre" days through a maternity shoot.
"Sanggre" is a term from the GMA fantasy television series "Encantadia," meaning a "diwata" or a fairy with royal blood. The show initially aired in 2005, where Calzado was among the main cast in her role as "Sanggre Amihan," a female warrior with the power of the wind.
In a recent post on Instagram, Calzado uploaded pictures from her maternity shoot, wearing a stunning silver ensemble showcasing her baby bump. The actress captioned the social update, "She's giving Sanggre vibes," earning nods of approval and admiration from many.
Moreover, singer-actress Karylle, a good friend of Calzado, commented on the post. Channeling her inner "Ashti Alena," she expressed excitement to see the baby. Karylle was also one of the original "sanggre" who worked with Calzado in 2005.
Not only did Calzado's latest pregnancy photos look magical, but her outfit also resembled the appearance of Amihan's armor. This nostalgic moment proved to everyone that she will always be remembered as an ever-iconic and unforgettable "sanggre." 
Meanwhile, in a separate Instagram update, Calzado announced her social media break to focus on motherhood. She penned,
"We humbly ask for love and prayers as we enter this new chapter of our lives. Will be taking a short social media break as I go through matrescence and experience its joys and challenges."
Calzado added: "We are so excited to meet you and hug you, little one! You are so loved!"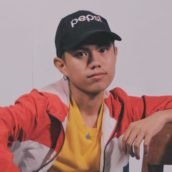 Renzneil Robles
Renzo is an introvert who prefers to do things at his own pace. Unlike most writers, he reads lazily. Watching Korean dramas at night is his constant source of comfort. Although oftentimes commended for being outspoken, he speaks better through writing than with his words.