SB19 to take part in South Korean docuseries
Photo from SB19 (Twitter)
P-Pop pathfinders SB19 will be participating in a South Korean documentary series, "K-Pop Generation," launched by the streaming platform TVING.
The program will tackle the influence of K-Pop around the globe. It will also tell the stories of Korean artists in this genre and their life behind the camera. According to a report from PhilStarLife, citing Soompi as saying, it will air on January 26 (KST).
"K-Pop Generation" will feature K-Pop stars Kangta, Leeteuk of Super Junior, Sunmi, Minho of SHINee, 2PM, and Highlight. Additionally, EXO's Suho, MAMAMOO's Hwasa, NCT's Doyoung , Stray Kids, TXT, AleXa, ENHYPEN, IVE, and LE SSERAFIM are included.
Meanwhile, the docuseries will also put into the spotlight the perspective of fans and experts regarding K-Pop as a phenomenon.
Thus, some foreign bands across the globe will make their appearances to discuss the impact of K-Pop in the evolving music industry. Namely, pop ensembles J01 and NiziU, both from Japan, and SB19 from the Philippines are set to partake.
SB19 is a five-piece Filipino group that is behind the hits "Go Up," "Alab," "Bazinga," "MAPA," and "Where You At." In the local and international scene, they are known as the leading formation and among the pioneers of P-Pop.
See Also
P-Pop, on the other hand, is a musical genre and a form of Original Pilipino Music (OPM). Although often a topic sparking debates, P-Pop is not derived from K-Pop. In fact, the practice has its own history and development contrary to popular but false beliefs.
It has to be noted, however, that P-Pop is reborn through SB19 and other groups, including 4th Impact, BGYO, and MNL48, among others. This rebirth adopted the practice of idol groups that are prominent in South Korea, hence, the misconception.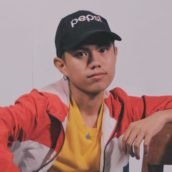 Renzneil Robles
Renzo is an introvert who prefers to do things at his own pace. Unlike most writers, he reads lazily. Watching Korean dramas at night is his constant source of comfort. Although oftentimes commended for being outspoken, he speaks better through writing than with his words.