Just in time for that summer vibe inspiration, DBTK | Bratpack drops second collaboration for 2021! Childlike heart, but not childish – how adults should be.
DBTK | Bratpack is on a roll, dropping their 2nd collaboration for 2021
Playful. Curious. Fearless. 
Reminiscent of our childhood, the newest DBTK | Bratpack collection will bring nostalgia in high gear. The drop also mixes simple, yet, powerful messages of what inspires us and what keeps us motivated. Of course, it includes childhood games connecting us with one another. This also signifies that one thing grown-ups shouldn't miss in their lifetime—play. The toys and interests may vary throughout the years. However, we should not lose our inner child, the playful spirit of our youth.
Design Inspirations: 
Fear the Brave 
The brave are often called the crazies, but they are the ones who break boundaries. Feel the fear but do it anyway. As Nelson Mandela said, "Courage is not the absence of fear, but the triumph over it". 
Lazy Never Made Me 
There's always a window of opportunity for us to take, and it's that one step we take that will redefine our future. Never get lazy and keep moving forward.
Dream Big Start Small 
True to the founders, Emil and Vince, this mantra is coming to life. Their work for the Brand brings remarkable messages and positively influences those who believe in what they do. Together, let us all be part of the dream as it unfolds.
We're all Bound to Change 
Change is constant and essential like a butterfly reaching its full potential. Whatever we do, we are all bound to change, all for the good. Connect the dots and see the full picture.
Snakes and Ladders 
The original version of Snakes and Ladders called "Moksha Patamu", came from the Ancient Indian Hindus. It was played possibly as early as the 100s BC and was used to illustrate the good and bad deeds of life. To most of us, Snakes and Ladder is a simple fun game of luck with friends. Rolling that dice and not knowing where you will land. Up or down, this is a reminder to keep fighting and climbing that ladder.
Crossword 
This silent game of minds first popped up in a New York newspaper in 1913. To this day, it's still a favorite pastime and a newspaper staple all around the world. Bratpack is bringing this game virtually—head on over to BratpackStore's IG and FB pages to see the full list of questions. You might win a prize or two!
DBTK | Bratpack collaboration is simple, yet, inspires you to dream big, interpret, and express your passion.
This summer drop is exclusively available in limited quantities at the Bratpack website and selected Bratpack Stores: 
MANILA STORES: Ayala Greenbelt 5, Ayala Alabang Town Center, Ayala Manila Bay, Ayala UP Town Center, Araneta Gateway, SM North The Block, Robinsons Magnolia, Robinsons Las Pinas, Robinsons Manila, Robinsons Galleria, Fairview Terraces, Lucky ChinaTown
Luzon Stores: SM Pampanga, Ayala Marquee Mall, Ayala Solenad Nuvali, Ayal Camp John Hay, Robinsons Pangasinan
Visayas Store: Ayala Center Cebu
Mindanao: SM Davao, Ayala Centrio Cagayan, Limketkai Mall Cagayan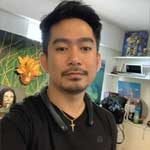 Josh Austria
Aside from being a businessman, Josh Austria has been working in PR and media industry for more more than a decade. From his years of experience as the Marketing and Advertising Head of Village Pipol Magazine, he has built strong relationships with creative people, brands, and organizations.