Governments all over the world are starting to combat COVID-19 by rolling out vaccines. But false information about the vaccine also starts to spread. This causes hesitation for people to register for jabs. Uncertainty in turn fuels skepticism and distrust can lead to loss of life.
"I got my shot," Dating apps help the UK government in the vaccine drive
Governments are collaborating with dating sites
Thankfully, famous dating apps recently released a campaign to encourage their users to post "I got my shot." The US government came up with an idea of vaccine badges on dating apps like Tinder, OkCupid, and Plenty of Fish around May. Users of Plenty of Fish can post a badge saying "I got my shot" while OkCupid users can add a badge saying: "I'm vaccinated".
This is also happening in the United Kingdom at the moment. Tinder, Bumble, and Hinge, and other dating apps made an agreement with the government to promote vaccines among young adults. According to Health Secretary Matt Hancock, people over 30 are now eligible for the vaccine in England and Wales. In Northern Ireland and Wales, it is available to everyone over 18.
Now, dating apps in this country are offering special stickers, badges, and bonuses for users who say they have the jab. Some of them even give free credits or access to premium features that usually cost extra. Users can get free profile boosts, virtual rose giving, and "super likes." They are also promoting the British government's "Every vaccination gives us hope" campaign.
Bumble will also enable its members to share pandemic dating preferences. This includes their views on social distancing, mask-wearing, and whether users are comfortable meeting in crowded places.
Getting vaccinated means a higher chance of having dates?
Meanwhile, the Department of Health claims that users could boost their romantic chances by telling potential dates they are already got the vaccine. YouGov started a poll among 5,000 respondents in May regarding the issue. It discovered that 28 percent of adults would not date someone unvaccinated while 31 percent prefer not to.
Vaccines minister Nadhim Zahawi said he was "thrilled that we are partnering up with dating apps to boost vaccine uptake across the country". Even this is the case, the UK government is still not giving a go signal to casual dating during the pandemic. They are reminding people to be cautious when meeting family and friends.
We think that this is a good strategy that the Philippine government can replicate. Technology can be our friend to disseminate facts and fight fake news about vaccines.
Do you guys agree?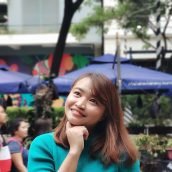 Queenie Lastra
Queenie Lasta got her bachelor's degree in Communications Research from UP Diliman. In her free time, she likes to read thriller novels, psychology books, and mangas. She believes in the importance of grit, hard work, and passion to become a great writer in the future.