CONFIRMED: Actor Song Joong-ki has a non-showbiz girlfriend
Photo from AllKpop and Soompi
Management of the South Korean heartthrob Song Joong-ki has confirmed he is in a current relationship with her non-showbiz girlfriend.
On Monday, HighZium Studio responded with the earlier reports regarding the love life of the 37-year-old Hallyu star. According to an article by Korea Times, the agency proved true that the actor is seeing a woman he met through his friend's introduction about a year ago.
"Song is having a good relationship with the woman. We have nothing more to say about them, " the entertainment outfit said.
Although the identity of the girlfriend was not revealed, other sites reported that she is of British nationality and not a celebrity. She reportedly accompanied Song at a press conference in Singapore for his latest drama.
It was in 2017 when Song married actress Song Hye-kyo after co-starring in the 2016 series "Descendants of the Sun." They showed great chemistry on and off the screen at that time, popularizing their sweet pairing.
However, in June 2019, the two announced their divorce after around 20 months of marriage. The news saddened their supporters, who are as shocked now following Song's disclosure.
Song debuted in the 2008 film "A Frozen Flower." He headlined many television series, including "Sungkyunkwan Scandal" (2010), "The Innocent Man" (2012), "Arthdal Chronicles" (2019), and "Vincenzo" (2021). 
In his latest project titled "Reborn Rich," Song Joong-ki plays an employee of a top company who will be accused of embezzlement and killed. As he wakes up, he finds himself in the body of an heir to a family of conglomerates.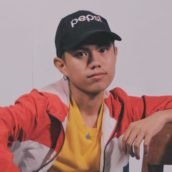 Renzneil Robles
Renzo is an introvert who prefers to do things at his own pace. Unlike most writers, he reads lazily. Watching Korean dramas at night is his constant source of comfort. Although oftentimes commended for being outspoken, he speaks better through writing than with his words.