P-Pop supergroup SB19 does beyond impressing the casuals or their fans― they see it to leave a mark on every opportunity.
Like so, last July 31, the legendary quintet made the most out of their involvement in the Binibining Pilipinas' 58th Grand Coronation Night. Serenading all 40 candidates and thousands of eyes watching, they rendered their version of "Win Your Heart," the event's theme song.
Apart from this, SB19 also performed two tracks from their Pagsibol album. One, the Billboard charts' record-breaking music called Bazinga, and another song titled SLMT. These top-notch stage productions were showered with hearts and praises, as seen with the #SB19atBBP2022 trending on Twitter.
Out of over 400k appreciation tweets, we handpicked several to find out how the casuals regard SB19 last Binibining Pilipinas Coronation Night:
As the best choice
For one user, satisfaction seems to overflow after the opening number of SB19. In a tweet, they acclaimed the P-Pop group as the "best choice" to revive the Binibining Pilipinas theme song. Like magic, a classical music piece turned into a catchy modern sound that undeniably won everyone's heart.
Love at the beginning?
Meanwhile, it seems that someone suddenly learned the art of new love. According to @BhayEhm on Twitter, the recent event made them start to love the ensemble. Now a potential fan, they also shared how they finally understand why SB19 is admired by many.
P-Pop's peak stardom
On the other hand, @rzabattle realized something unexpected while looking at the bigger picture. They not only applauded SB19's vocal and dance harmony but so is the genre. Through Pablo, Josh, Stell, Justin, and Ken, they concluded that P-Pop is at the peak of its stardom.
SB19 for the win
Amid many talented women competing for the crown, here is your reminder to not confuse SB19 as part of the battle. From @elsinapadas' tweet, the production for Binibining Pilipinas was magnificent. Except, jokingly, the boys should have been the ones to bring home the bacon.
And so, an A'TIN was born.
At last, enough of all the long sideways and trips! Take it from Twitter user @KarlDominiqueA1, who has decided to welcome himself into the fandom. After watching SB19, they now consider themself as an official A'TIN!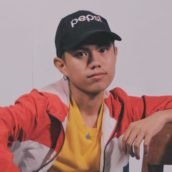 Renzneil Robles
Renzo is an introvert who prefers to do things at his own pace. Unlike most writers, he reads lazily. Watching Korean dramas at night is his constant source of comfort. Although oftentimes commended for being outspoken, he speaks better through writing than with his words.