SO MUCH FEELS. Ben&Ben and Moira Dela Torre collaborated on a new masterpiece. Ben&Ben dropped the news on their official social media accounts. They also revealed the title of the single, Pasalubong. This is their third single for their second album.
Percussionist Andrew De Pano arranged and produced Pasalubong
In a tweet, Andrew acknowledged his gratitude to Moira and Jason for their participation in the song. He said that the couple is always welcome to Ben&Ben house. Moreover, Andrew tweeted that he put all his heart into the song and he hopes people will like Pasalubong. In Ben&Ben's tweet, they revealed Pasalubong has a lot of meanings. It could be a gift, or meeting someone halfway.
View this post on Instagram
Ben&Ben already released two singles from their next album, Upuan and Magpahinga, in May 2021. The title of the album and its release date is yet to be revealed.
Upuan depicts the apparent romantic tension that comes from friendships made from sitting next to each other. The feeling of falling in love with your seatmate. Released in May, Magpahinga reminds us to slow down and take a break. And to address our personal problems. Ben&Ben collaborated with a variety of artists throughout the first half of the year. In May 2021, the nine-piece band collaborated with DAY6's Young K on a reimagined version of their 2017 hit Leaves. They also collaborated with SB19 on the band version of  MAPA.
Furthermore, Ben&Ben and Moira Dela Torre first made collaboration for the song Paalam. This collaboration is truly a pasalubong. Like when someone is away from a period of time, they tend to bring something as they go back. Bringing pasalubong signifies that you remember that person while you are away.
Released on July 30, Pasalubong provides hope to people who are in one-sided love. It's as though you're wanting that individual will meet you halfway in terms of your feelings. They're hoping that someone will feel the same way. It might also be about someone who is unable to express their feelings. So take the risk, confess your feelings but never beg for love. Love, like Pasalubong as a gift, is freely offered and without expectation.
Watch Ben&Ben – Pasalubong (feat. Moira Dela Torre) official video: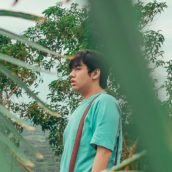 Ivan Royce Pedron
Ivan Royce is a journalism student from Cavite State University. Aside from being a writer, he is also a video content creator, photographer, and graphic designer. He likes to drink…. Coffee, tea, or maybe alcohol. Ask him for recommendations!