Angel Locsin went viral last Wednesday, September 22, after posting an Instagram photo showing a slimmer figure.
You are more than what you weigh
The same day, the actress-philanthropist addressed her viral post, saying she just knew the right pose to look slimmer.
"About my recent post that became viral, first, I want to say that knowing how to pose the right way can help you look slimmer. I think everyone who posts [OOTDs] or watched Top model knows this,"
Moreover, Angel shared an inspiring message to people who are struggling to lose weight.
"[P]lease don't feel pressured. I tell you that I understand that it's not easy, having been fighting weight gain for years. Pressure did not and will not help. Just take your time. Your body, your rules,"
Furthermore, she said one should not forget to love their body and they are more than their weight and looks.
"What's important is how you feel and think of yourself. Shine. Don't let the perception of others dim your light. I know you are trying, I know it's hard. I understand,"
A work in progress
Also, Angel took the chance to clarify that she, indeed, slimmed but says she is still a work in progress.
"Yes, I was able to slim down—but I'm acknowledging that I'm still a work in progress. Though I feel good now. I've been taking care of my health and trying out something new,"
Further, she says she will be sharing her fitness journey when she gets more confident.
She concluded her post by saying she will not let anyone dictate the pace in her workouts.
"I will not let anyone dictate my pace. But I am looking forward to what I can achieve in the next 3 months or so. Love you, fats and all,"
Last June, Angel began steps on getting back into shape with a nutritionist-approved diet plan, which she shared on Instagram.
Previously, she faced changes in her health and weight after suffering from a spinal disc bulge in 2015.
This condition prompted her to feel pain while moving and working out.
Additionally, Angel faced body shaming in the past, specifically in a module issued by the Department of Education.
However, in a 2019 interview, she said she would rather not respond to comments about her body.
Thank you for the inspiring message, Angel! May you continue being an inspiration to many!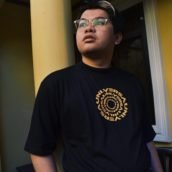 Kobe Adam Joshua Laurena
Kobe Adam Joshua Laurena is a writer who loves to tell stories from the perspectives of different people and everyday life. Apart from the pen, he loves to pick up the lipstick to transform into his frustrated drag persona: Anita Good Lovin'. He aspires to combine his love for writing and drag by creating a novel, short story, or screenplay about local drag queens in the future. He also has an obsession with sitcoms, women's pro-wrestling, and Funko Pops.