Maris Racal shared her experience in lining up to register as a voter for the 2022 elections.
The actress recalled the happenings in a TikTok video posted last Tuesday, September 21.
At the wrong lane
She recounted waiting at a Commission on Elections (COMELEC) site for six hours, only to discover how she was at the wrong registration line.
"Pumila ako ng mga 2:30 AM. […] Pang-number 24 ako, pero noong 8AM ko na maling district pala ang pinilahan ko,"
Further, Maris went on, saying there were no longer available slots to register that day, prompting her to go home.
The following day, she lined up once more at 2:30 AM, this time in the correct COMELEC site.
A reminder to the public
Then, Maris completed her voter registration and concluded the video with a reminder to her followers.
"Sa lahat ng gustong magparehistro, maaga dapat kayo dumating. Mayroon pa tayong few days lefts so magparehistro na kayo, guys,"
Additionally, on Instagram, Maris posted a photo of herself on the COMELEC site, reminding her followers to register to vote.
Last September 17, she wrote a tweet, hoping for COMELEC to extend voter registration in the country.
Additionally, she pointed out how there were only limited slots in sites near her area.
"Sana talaga i-extend ang registration kasi ang hirap ng 300 slots lang per day tapos 4 days a week lang dito. Please extend voter's registration!"
Maris is not the only celebrity who registered to vote in recent times.
Recently, Miss Universe 2015 Pia Wurtzbach did so last Friday, September 17, while reminding the public to do their part.
Moreover, COMELEC has reported how over five million new voters have registered in the country.
Lastly, voter registration continues until September 30 so make sure to register for a better future for the Philippines!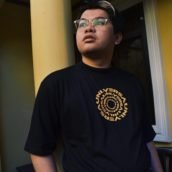 Kobe Adam Joshua Laurena
Kobe Adam Joshua Laurena is a writer who loves to tell stories from the perspectives of different people and everyday life. Apart from the pen, he loves to pick up the lipstick to transform into his frustrated drag persona: Anita Good Lovin'. He aspires to combine his love for writing and drag by creating a novel, short story, or screenplay about local drag queens in the future. He also has an obsession with sitcoms, women's pro-wrestling, and Funko Pops.