All songs from ALAMAT's Pasulong EP deserve hype!
The multilingual nobles of P-Pop, aka ALAMAT, advanced a new step forward in the OPM scene with the release of their debut EP, Pasulong.
Composed of members Taneo, Tomas, Mo, R-Ji, Jao, and Alas, the sextet launched its new record on October 28. This extended play is a first in their discography since prior singles "kbye," "kasmala," and "ABKD." In addition, it is a braver stride in efforts to elevate P-Pop to the global spotlight.
As a group, ALAMAT is famed for its unique artistry marked by promoting Filipino roots and culture. They are also admired by fans (Magiliws) for tackling sensitive issues in their creations.
Meanwhile, not a song in Pasulong EP fell behind ALAMAT's imposed standard. Every track on the list is consistent with their history of good music, and below are the reasons why:
Aswang
Aswang is the carrier single to Pasulong. The title is a reference in local lore, although the piece is on the side of R&B and dance genres. It infuses Filipino lyrics in a catchy progression, leaving a sultry impression that makes you want to dance.
Maharani
A personal favorite, Maharani means queen in its closest translation. Among the romantic compositions of ALAMAT, this serenade certainly stood out. With a message well-sent in rhythm, It's like hearing all the bandmates confess their love to you.
ILY ILY
ILY ILY is the modern revival of the famous folk Hiligaynon lullaby illustrating the agony of having distant loved ones. It carries the most profound meaning and implication, unlike most love songs in Pasulong EP. Moreover, it features vocals from young singer Lyca Gairanod.
Gayuma
Besides Aswang, Gayuma is another entry from ALAMAT's newest mini-album that is catchy and hypnotizing. While it may not have grandiose elements, the repetitive harmony is enough to draw attraction. Listening to this is entirely enticing, tempting, and inviting.
See Also
Say U Love Me
A captivating tune paired with outstanding choreography equals double appreciation. That is precisely Say U Love Me, the first single to signal the coming of Pasulong. In July, it premiered an official music video that garnered over 300k views as of writing.
Hala
Lastly, the members of ALAMAT channeled their unseen side through the electrifying pop piece, Hala. It highlights piercing rap verses sung in seven languages and, at the same time, adapts traditional melodies. These and other components make it almost, if not a diss track.
Which of these songs is your favorite? Stream the Pasulong EP here!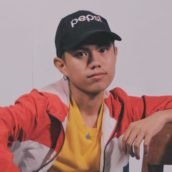 Renzneil Robles
Renzo is an introvert who prefers to do things at his own pace. Unlike most writers, he reads lazily. Watching Korean dramas at night is his constant source of comfort. Although oftentimes commended for being outspoken, he speaks better through writing than with his words.