5 Unique Products You Can Only Buy in Korea
The Korean wave, known as Hallyu, has left an indelible mark on Filipino consumers. It can't be denied that many people in the Philippines have developed a deep fondness for South Korea's rich cultural exports, innovative technology, and distinctive lifestyle offerings. This, in turn, drives their desire to acquire unique and authentic Korean goods.
Despite the international popularity of Korean products, it can still be difficult to get one's hands on authentic items from South Korea. There's an abundance of Korean shops and restaurants locally. But, their offerings can still be quite limited in terms of quantity and quality. 
Filipinos, of course, try to get around the lack of options in different ways. Some travel to South Korea and shop to their heart's content during their stay there. There are also those who arrange for shipping from South Korea to the Philippines. So, they can get their goods straight from the source regularly and at reasonable prices. 
What kinds of unique products do these consumers buy from South Korea specifically? Here's a list of the items that many of those who crave K-products insist on buying from stores in the country.
Korean Skincare and Beauty Products
Korean skincare and beauty products have made leaps and bounds in terms of popularity over the years. Many of the beauty and skincare brands from the country are renowned for their emphasis on natural ingredients, meticulous research, use of innovative formulations, and effective results. Their extensive range of products includes a wide variety of sheet masks, essences, serums, and cushion compacts.
Many Korean skincare brands recognize the international appeal of their products and make an effort to make these available to a global audience. However, there are still plenty of holy grail K-beauty items that one would be pressed to find in stores outside of its country of origin. These hard-to-find items often have limited availability, which can drive up their cost. Additionally, the surge in counterfeit beauty products has created trust issues within the Philippine market. It prompts consumers to seek out these items directly from reliable sources in South Korea.
Hanbok or Traditional Korean Clothing
The Hanbok embodies the rich cultural heritage of Korea. Known for its vibrant colors, graceful lines, and intricate embroidery, Hanbok is worn during special occasions such as weddings and festivals. The elegance and timelessness of this attire have attracted international attention. People worldwide shows interest in experiencing the charm of traditional Korean fashion.
Adding an authentic Hanbok to one's wardrobe, however, is easier said than done. This traditional clothing requires intricate craftsmanship and specialized tailoring. Custom-made Hanbok, especially, requires skilled artisans who understand the nuances of traditional Korean attire. There are international markets that offer Hanbok replicas or adaptations. But, these often lack the authenticity and excellent craftsmanship of genuine Korean Hanbok. For those who want the real thing, their best option is to ship a genuine Hanbok directly from South Korea or try on the attire during their trip to the country. 
Ginseng and Red Ginseng Products
Korean ginseng is renowned for its remarkable health benefits. It's a staple of traditional Korean medicine and has gained recognition worldwide as a potent herbal supplement. Among other benefits, the roots of ginseng are believed to boost immunity, increase energy levels, and promote overall well-being. Among the different types of ginseng, red ginseng is made through a steaming and drying process. It is especially revered for its enhanced potency.
Despite the increasing global demand for Korean ginseng products, their availability can be limited outside of Korea. This scarcity is due to strict regulations on the exportation of ginseng and the need for proper certification. This ensures its quality and authenticity. As a result, Filipinos interested in harnessing the health benefits of Korean ginseng often prefer to procure it directly from reputable sources in Korea.
K-Pop Merchandise
K-pop, the global music phenomenon originating from Korea, has garnered a massive international fanbase. It includes a dedicated following in the Philippines. As a result, K-pop merchandise such as albums, posters, fashion items, and accessories have become highly sought-after collectibles among Filipino fans. These serve as tangible mementos of the owner's favorite K-pop idols and groups.
The challenge in accessing authentic K-pop merchandise outside of Korea is rooted in the extensive presence of counterfeit goods. To avoid falling victim to fake products, Filipino fans prefer purchasing official K-pop merchandise directly from authorized stores in South Korea or official online platforms. This ensures that they are supporting their favorite artists and receiving genuine items.
Korean Snacks and Street Food
Korea's vibrant street food culture and unique snacks have charmed palates worldwide. This makes Korean snacks a popular choice among international food enthusiasts. Delicacies such as spicy rice cakes (tteokbokki), fish-shaped waffles (bungeoppang), and seaweed snacks (gim) are not only delicious but also provide a delightful glimpse into Korean culinary traditions.
Though some Korean snacks have made their way into international markets, the selection may be limited. Also, the authenticity of flavors could vary. To experience the full array of Korean snacks and street food, Filipinos often find it best to explore local markets and street food stalls during their visit to South Korea. They immerse themselves in the rich and diverse flavors of Korean cuisine.
Limited local availability has made it quite challenging to acquire these items in the Philippines. Hopefully, though, the continued popularity of these goods will eventually prompt more entrepreneurs to bring a wider variety of authentic Korean products to the local market.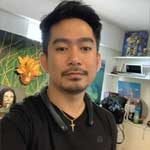 Josh Austria
Aside from being a businessman, Josh Austria has been working in PR and media industry for more more than a decade. From his years of experience as the Marketing and Advertising Head of Village Pipol Magazine, he has built strong relationships with creative people, brands, and organizations.