In his new role, Singh will continue to drive innovative solutions for brands and marketers across the region, under TikTok For Business  
TikTok currently holds the leading destination for short-form mobile video. Today, they announced the appointment of Sameer Singh as Head of Global Business Solutions, Southeast Asia. In his new role, Singh will be responsible for leading sales and business marketing solutions across all TikTok for Business products in the region.
TikTok Appoints Sameer Singh as Head of Global Business Solutions, Southeast Asia 
Sameer Singh has a career that spanned over 25 years. He continued to pioneer innovative marketing and advertising solutions. Before he joined TikTok and ByteDance, he spearheaded the operations at Group M. He worked as Chief Executive Officer in South Asia. Then, he provided clients with a competitive advantage in digital leadership and content. Singh has also held key leadership positions. This includes Google, GSK, Procter & Gamble, and IPG, across geographies including Palo Alto, Boston, London, Dubai, and Guangzhou.
"TikTok has supported tens of thousands of enterprises and partners, especially small and medium businesses. This comes to elevate their marketing and advertising efforts and grow their business with our extensive product suite. Southeast Asia is a fast-growing region with boundless potential, especially in the short-form content space. The SEA markets continue to be a priority for us as we expand and innovate our TikTok for Business offerings to suit the diverse needs of this region."
TikTok's Global Business Solutions arm empowers businesses of all sizes to engage with their target customers uniquely and creatively. This comes while creating a positive and safe environment for brand partners. Singh's appointment further reinforces the platform's commitment to the local economies in Southeast Asia. He does this by providing support to the many small and mid-size businesses that serve as the region's backbone.
Blake Chandlee, TikTok's President of Global Business Solutions says:
"We are in a dynamic time at TikTok as we introduce new and creative ways for brands of all sizes to reach success on TikTok, and Singh has been indispensable in driving TikTok's advertising efforts thus far. We're absolutely delighted to welcome him to this new role and look forward to seeing how he will propel the team to new heights as Head of Global Business Solutions in Southeast Asia."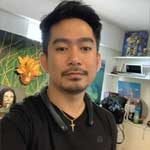 Josh Austria
Aside from being a businessman, Josh Austria has been working in PR and media industry for more more than a decade. From his years of experience as the Marketing and Advertising Head of Village Pipol Magazine, he has built strong relationships with creative people, brands, and organizations.