These graze boxes and gourmet spreads make every moment a celebration
Wines, cheese, cold cuts, fresh and dried fruits, nuts, and pretzels. When you hear these words, what kind of food do you think of? Yes, the answer is a graze box!
Grazing boxes are all about the taste and visuals
Graze boxes or grazing boards are typically present during the holiday season and other special events like weddings, debuts, and anniversaries. Nowadays, people arrange them according to their preference or liking. Yet, the key element here is aesthetics. They must not only taste good, but they should also look appetizing.
It seems that Eleatist Kitchen's co-owner Francis Fabie ticked all the requirements with their assortment of graze boxes. In fact, the brand stepped up its game by including delectable homemade spreads!
Eleatist is a play on the words elitist and eat. Francis said he used it back in 2015 as hashtags for photos of his food adventures, travels, cooking, and other posts. They came up with the business concept during one movie date night with his girlfriend.
"After that, we thought of using it as our name for the business because we wanted to serve food concepts with an elevated taste."
Both of them thought that they could put their own twist and elevate the graze box by making our own homemade spreads. Thus, they started the business with their flagship signature garlic cilantro cream cheese spread.
Adapting to changes as a business
However, it was not an easy road for both of them. Francis said that they mainly struggled with their supply chain. Some of the ingredients were scarce but they pushed themselves to maintain the quality of their products. Thankfully, they overcame the supply chain problems by looking for quality backup suppliers and ensuring their quality.
The owner added,
"Our core values will always be quality, uniqueness, and adaptability. We believe that we have to keep producing quality products that will always have our own 'Eleatist' imprint and learn how to quickly adapt to the changes happening during this post-pandemic world."
Discovering different kinds of delicacy in a small box
For their best-seller, customers usually order Eleatist's Treats Package, which is good for 2 to 3 persons. I was able to try this specific product for a low-key date night with my husband. I must say that it pretty much has all you want in a grazing box. Probably even more!
I cannot stress enough how I love cheese so I think that this Treats Package is like a treasure box. It has two types of premium cheese, probably gouda and cheddar. Both of them taste savory and come with delicious thin crackers.
It also boasts Italian cold cuts such as Salami Milano and Prosciutto. Both types of meat are tender, thinly sliced, and packed with intense flavors. Meanwhile, the pretzels, dried fruits, and olives added texture to the whole grazing experience.
Now, let's go to the highlights of this Treats Package: the garlic cilantro cream cheese spread, salted choco cream spread, and choco barks.
The homemade garlic cilantro cream cheese is truly indulgent. It suits crackers, pretzels, and maybe even a bread toast. The cilantro made a huge impact on the garlic and cream cheese.
On the other hand, sweet tooth munchers will really enjoy the salted choco cream spread. It's a heavenly dark chocolate spread that's not overly sweet. You can really taste the richness of the cocoa in just a smear.
Lastly, the choco barks simply bring joy and I cannot stop munching on them. The chocolate coating is sweeter than the choco cream, yet the pretzel bites and roasted cashews balanced it out. It's also a great way to add texture.
How to order?
If you are interested in trying this graze box from Eleatist Kitchen, you can hit them up on their official accounts on Facebook and Instagram. Aside from the grazing boxes, this online shop also offers sous-vide steaks so you can elevate your dinner date. They make thick-cut steaks that have cut-up fat which you can crisp up. No need to worry about messing them up since they come with instructions.
Soon, Eleatist Kitchen is planning to expand its product menu by adding more unique dips, spreads, and chocolate barks. Francis also said that they want to come up with different kinds of graze boxes like sweet, vegan, and more. They also want to create steak kits!
This coming weekend, why not have the time to celebrate small wins with your family, friends, your partner, or even by yourself? Get yourself a mouthwatering graze box to cap off that moment!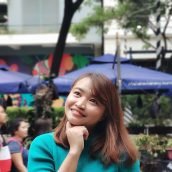 Queenie Lastra
Queenie Lasta got her bachelor's degree in Communications Research from UP Diliman. In her free time, she likes to read thriller novels, psychology books, and mangas. She believes in the importance of grit, hard work, and passion to become a great writer in the future.