These Fün Cocktails are perfect if you're planning to be tipsy and lively this holiday!
Small and intimate gatherings with your family or barkada shouldn't be boring. You have good food, lively music, and pleasant conversations with the people you love. But what's missing? Yes, you're right. It's time for a little booze to make the occasion more fun! And right on time, we're introducing you to unique flavors of Fün Cocktails!
Bringing the fun drinking experience in your homes
There are thousands of cocktail and mixed drink recipes you can choose from and mix up. But if you're not a bartender. Chances are, you'll do it on a trial-and-error basis. Fun cocktails can be your go-to-drinks if you do not like wasting time and energy since they're ready to drink.
Johann Sanchez built this online start-up business to provide affordable, but refreshing and flavorful cocktail drinks for everybody. He saw how his fellow Pinoys thrived during the quarantine and that inspired him to come up with his own. "Since most, if not all, bars are closed due to the pandemic, we thought that bringing the bar to our target customers' homes is the next best thing!"
Since people do not need cocktail drinks on a daily basis, there are times that the demand for them is not that high. Thankfully, they still find a way to celebrate with a drink with Christmas and New Year is nearing.
With all of those experiences as a young entrepreneur, Johann shared his advice to those who are thinking to have a start-up business: "Just go for it! Don't let the fear of failure stop you from starting something great. Also, make sure you surround yourself with the right team! Good luck!"
Attractive packaging plus witty names of Fun Cocktails
As you can see, the cocktail drinks come in plastic clear bottles with an eye-catching design on the front. And what we notice the most is the names of the drinks themselves!
The names seem to be derived from the clever wordplay of some song titles. They have "I'm in love with the Coco", "Who Rum the World",  and many more. When their mixologist presented his initial menu, he called the green drink "Kiwi, Do you Love Me?" Johann said they liked the idea so much so they decided to proceed with the other flavors.
With the innate love for cocktails, Johann and his team made sure that their products are something you don't get tired of drinking. Their lychee rum "Who Rum the World" for example is fruity but packs a certain punch. You know there's rum in it, but you cannot taste its bitterness because of the juicy notes of lychee, guyabano, and white grapes.
It really hits off the right balance for chill drinking sessions. Because of that, I'm looking forward to tasting the other variants soon. The playful design is also great for posting it for your Instagram stories.
According to Johann, their best-selling cocktails mixes are 'Light it up, Dynamite!' and 'I'm in love with the Coco'. Their repeat customers told them that Fun Cocktails taste really good, plus they have cute packaging.
If you want to order, you can send a message to their Instagram and Facebook accounts. For the mode of payment, they accept bank transfers via BDO, BPI, or GCASH. You can also pay on a cash-on-delivery basis. The price of their cocktail mixes starts from PHP 320 and it varies according to the number of bottles you are going to buy. And if you are thinking to give them to someone as a Christmas present, they offer different gift packages.
So this is really the time to be merry even times are tough. Have a good laugh then reminisce the happy memories as you sip a glass of Fün Cocktails. Cheers!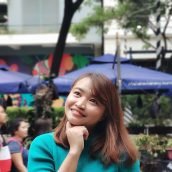 Queenie Lastra
Queenie Lasta got her bachelor's degree in Communications Research from UP Diliman. In her free time, she likes to read thriller novels, psychology books, and mangas. She believes in the importance of grit, hard work, and passion to become a great writer in the future.