From December 2020 up to this month, Sweet Home easily claimed the top spot among Netflix viewers. According to the streaming platform, this series shows a dystopian world where people turn into monsters overnight. It highlights the different faces of humanity amidst the struggle for survival.
A talented actress and a powerful athlete at the same time
Netizens do not only love the plot of this show, but also the badass women who are ready to fight for their life. One of them is the lead character, Lee Si Young. She plays the role of Seo Yi Kyung, a former special forces soldier, and firefighter. She's a strong woman with a heartbreaking backstory. Curious about this actress? Here are some facts:
In case you did not know,  Lee Si Young is actually a great amateur boxer in the past. It's not really that surprising since her fit and athletic body simply proves it. She began her career in boxing way back in 2010 during her preparation for a drama series on MBC. Even though the network did not air the show, Si Young continued the sport.
Moreover, the actress competed in amateur competitions five years after, with a notable number of wins. Because of that, South Korea recognized Si Young as the first mainstream celebrity to become a national athlete! During an interview, she explained why she took up boxing. "I was thrilled by boxing, which was a totally different job than being an actress. I felt alive when I was [in[ the ring…I like the fluorescent light in the gym instead of the red carpet. I like the fact that every single drop of sweat counts instead of how pretty I look. Maybe I wanted to punish myself who was lazy and full of complaints back then." However, Si Young has to declare her retirement at the age of 33 because of a serious injury on her shoulder.
She is opposite of Seo Yi Kyung in Sweet Home
In spite of her strong character on Sweet Home, Si Young's personality off cam is far from it. "[Yi-kyeong] is sort of the pinnacle of a woman and a female character in charge, and I would say that that's quite different from my actual personality." During her free time, Si Young likes to do flower arrangements.
Although they are the opposite, the actress draws inspiration from her character's strength, passion, and quick judgment. These are the traits she admires from her and she aspires to have.
We're hoping we could see more of her in other series to come!
Do you guys agree?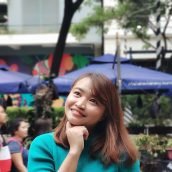 Queenie Lastra
Queenie Lasta got her bachelor's degree in Communications Research from UP Diliman. In her free time, she likes to read thriller novels, psychology books, and mangas. She believes in the importance of grit, hard work, and passion to become a great writer in the future.