When you plan to visit a specific country for business or leisure purposes, the first priority should include whether or not you will remain safe while staying there. Reasons for a country to have a title of being 'unsafe' would include crime, terrorism, health, government, weather, and so much more. Unfortunately, the Global Finance Magazine declared that the Philippines remains the world's most unsafe country of 2021.
Study says the Philippines ranks as most unsafe country of 2021
According to the study, our country got the bottom ranking at 134th when it got the lowest score. After two years, this the second time that the Philippines took last place in the rankings of safest countries. Meanwhile, Iceland stays on the top spot with an index score of 3.97
According to the business publication based in New York, they made an evaluation of 134 countries with "safety scores". The basis of the scoring are factors such as war and peace, personal security, and natural disaster risk. The fourth factor is "unique risk factors stemming from COVID-19."
In addition to this, the research analyzed 2020 reports and COVID-19 data up to May 30 this year. They used the deaths per capita to calculate a country's overall response to the pandemic. This pertains particularly to their healthcare infrastructure, government capabilities, political leadership, and culture in face of an unexpected crisis.
Poor performance in terms of safety even with low death tolls
The global index described our country with a serious civil conflict that has high risks from a natural disaster. It added,
"The Philippines, Nigeria, Yemen, and El Salvador all reported relatively low death tolls from COVID-19, yet performed poorly in terms of safety overall… While the fundamental factors rely on concise reports produced by NGOs and international organizations, the COVID-19 death tolls and the vaccination rates are largely based on self-reporting by governments."
However, the business publication had put a disclaimer about the study. Apparently, the rankings and scores should be taken with a grain of salt compared to previous editions." They clarified that NGOs and international organizations release "concise reports" that became the basis of fundamental factors. On the other hand, each government reports COVID-19 death tolls and the vaccination rates.
The government must do something to clear the name of the Philippines regarding safety. In the long run, a bad reputation can affect tourism and the economy.
Do you guys agree?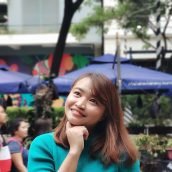 Queenie Lastra
Queenie Lasta got her bachelor's degree in Communications Research from UP Diliman. In her free time, she likes to read thriller novels, psychology books, and mangas. She believes in the importance of grit, hard work, and passion to become a great writer in the future.