The ROIDMI A100 is a compact and powerful hair dryer with Air Turbo boosting technology. It has an air speed of 64 meters per second so it can spin at 104.000 RPM. The hair dryer lets strong airflow reach up to the roots of the hair. It dries faster without having to withstand high temperatures and damage. To dry newly-washed long hair, it only takes five minutes with the ROIDMI A100!
Equipped with a built-in negative ion generator, which releases over 10 million units/cm³ negatively charged ions, the ROIDMI Hair Dryer A100 gets rid of static electricity and tames frizz, so your hair is smooth, sleek and shiny.
This powerhouse hair styling product from the world's leading manufacturer of cordless vacuum cleaners has achieved what others can't. That is to create a hair dryer that dries hair in minutes without damaging it.
Other hair dryers claim to have superior drying power that is bulky, cumbersome, and unwieldy. Nevertheless, the A100 has a lightweight ergonomic design. The net weight of the body is only 330g–so you can easily pick it up and use it comfortably. It also uses advanced integrated molding CNC technology of aluminum alloy for the handle and has a matte texture.
The hair dryer has two speeds and three temperatures. Meanwhile, NTC smart constant temperature control constantly monitors the ambient temperature in the air outlet. It automatically adjusts the airflow temperature in real time to prevent overheating.
It has interchangeable attachments but here lies another difference between this hair dryer and others. The attachments on the ROIDMI A100 are magnetic, so it's easy to switch the nozzles. It also has an air inlet with double-layered filter grilles on the handle to prevent hair from being sucked in.
The A100 Hair Dryer is lightweight and compact. It's perfect for traveling and the leather travel bag it comes with has with this in mind. For home use, there is a wall mount accessory that matches with any aesthetic.
Get the new ROIDMI Hair Dryer A100 at ROIDMI's official online stores:
• Website – https://roidmi.ph/
• Lazada – https://www.lazada.com.ph/shop/roidmi
• Shopee – https://shopee.ph/roidmiphilippines
• FB: https://www.facebook.com/roidmiphilippines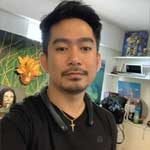 Josh Austria
Aside from being a businessman, Josh Austria has been working in PR and media industry for more more than a decade. From his years of experience as the Marketing and Advertising Head of Village Pipol Magazine, he has built strong relationships with creative people, brands, and organizations.