Netizens expressed anger over the video of 'parcel-throwing' of J&T Express crews
Admit it, there's an unexplainable joy behind adding items to your cart and pressing that purchase button. When malls were partially operating during the quarantine, a lot of us depended on online shopping. Even before the pandemic, many online shoppers and netizens cannot resist the tempting flash sales from the likes of Shopee and Lazada. However, there were also stories of disappointments when the orders arrived. One of them is finding a damaged item after opening the box or bubble wrap.
J&T Express said that mishandling of the parcels is an isolated case
Yesterday, a video circulated online showing the staff of J&T throwing the pile of packages onto a delivery truck. In a post by a Facebook page, Just Wanna Have Fun, there is a caption, "NAKA-BUBBLE WRAP NAMAN DAW MGA PARCELS NIYO!" The Facebook video earned 5.9K comments and more than 10K reactions.
There's also an upload of the same video on Twitter and it gained 70,600 views plus 1,100 retweets and likes. A Twitter user commented, "This is a solid proof that these staff are being careless and throwing parcels like they are some kind of toys!! we packed the parcels neat and safe and this is how you handle them? what kind of service is this?"
To clarify the issue, J&T released a statement on their official Facebook page stating that they have received complaints on the mishandling of parcels as shown in a viral video. They added that they do not tolerate such acts and behavior and that they are taking responsibility for the said incident.
"We would like to reiterate that we do not tolerate such acts and behavior, and we humbly take responsibility for this incident. We would also like to assure the public that this is an isolated case. All of our facilities, including our branches and warehouses across the country, are under 24/7 monitoring. We also follow strict protocols in handling the shipments and ensure that these are handled with proper care. We have already identified all the involved personnel in the video. Proper sanctions will be given to them accordingly. We thank all individuals, especially our customers and employees, for their continuous and trust and support. As a way of showing our gratitude, we are planning to provide incentives for such actions."
Do you agree with this courier company's explanation? What do you think?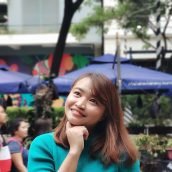 Queenie Lastra
Queenie Lasta got her bachelor's degree in Communications Research from UP Diliman. In her free time, she likes to read thriller novels, psychology books, and mangas. She believes in the importance of grit, hard work, and passion to become a great writer in the future.