Top 10 online groceries store we can order from during quarantine
We are familiar with panic-buying horror stories as the government declared a Luzon-wide lockdown two months ago. However, there's no need for commotion or hoarding since President Duterte himself assured that the food supply is enough for now. What remains to be the biggest challenge is to practice social distancing and endure long lines at the supermarket.
Online grocers are a safe and convenient options
On the other hand, there's a more convenient and safer option for those who want to avoid going out for food shopping. With just a few taps and clicks, you can have groceries delivered at your doorstep. Yes, we're talking about the online grocery delivery services that continue their service during this pandemic. Take note that we already eliminated those big online grocers to let the small and reliable ones shine.
Let's begin!
The Vegan Grocer PH
As the name implies, this online store is suitable for those practicing vegan diets. Since 2017, they are committed to making delicious vegan and plant-based products available for healthy living. The Vegan Grocer is open from 10 am to 5 pm on Tuesdays, Thursdays, Saturdays, and Sundays only due to limited manpower.
The Vegan Grocer has a store in San Juan Manila but for the time being, you can contact them thru Facebook or text this mobile number:  0917-192-0346
The Green Grocer
Need some gourmet ingredients for your meal this week? The Green Grocer is said to be the first local delivery service in Manila of fresh produce, grass-fed and naturally raised meats, artisan bread and cheese, organic eggs, and other fresh gourmet eats. Moreover, it offers thrice-a-week delivery every Wednesday and Saturday, but you should submit your order no later than Monday 12NN. If you want to avail of the Saturday delivery, send your order on or before Thursday, 12NN.
To know their products and prices, click this link.
Bigas PH
Any rice-lovers out there? Just established last year, BigasPH is an online delivery for rice and a Filipino-owned business. Its team has designed a very easy mobile app that can be downloaded on any phone. It to simplify the online bigas ordering process for Filipinos.
To order your favorite rice variant, click this link.
AgriBusiness Online Palengke
If you're craving for fresh vegetables and fruits right now, you can check out AgriBusiness Online Palengke. They can deliver within Metro Manila and nearby areas with a minimum order of PHP 1,500.  Aside from that, you can choose from multiple modes of payment: BDO, Cebuana, Palawan, GCash, Paypal, and even COD.
Click here and place your orders!
Session Groceries
Want some luscious strawberries for your desserts or fruit shakes? No need to travel to Baguio as Session Groceries can deliver them to your home. Its team had developed an app to connect local farmers and consumers, in line to support agriculture business. This online store is based in Baguio but they also deliver in NCR, Rizal, and Cavite.
For orders of fruits and veggies, you can download their app thru Android or iOS from Monday to Saturday, 8 am to 7 pm.
Mr. Delicious
Began as a food blog 9 years ago, Mr. Delicious evolved into an online shop of handcrafted cured and smoked meats and artisanal sundries. It caters to busy, working people who want to enjoy foods that are prepared the old-fashioned way. All of their products are prepared in an FDA-licensed facility, vacuum sealed, and blast frozen to keep them at the peak of their quality and freshness. Also, they have same-day delivery anywhere in Metro Manila for orders placed before 4:00 pm, Monday to Friday.
For product lists and pricing, visit their website.
The Murang Gulay Shop
Looking for affordable vegetables and cheap delivery fee? The Murang Gulay Shop may be the solution so you can make healthy meals for your family. For a maximum weight of 12 kilograms, the basic delivery fee is 75 to 150 pesos. They deliver from Monday to Friday and there's a confirmation text of the date you're going to receive it. As for the mode of payment, you can pay through BPI, Gcash, and COD.
To order, just click the 'Shop Now' button at their Facebook account.
Rare Food Shop
You might want to treat yourself or your special someone for a date night at home. The good thing is,  Rare Food can deliver ready to cook steaks and seafood. Based in Metro Manila, this only store is not only delivering meats to hotels and restaurants but also households.  They are open as early as 8 am from Monday to Saturday.
Check their website to see what they are offering right now.
Zagana -Farm to Kitchen
We should also be thankful for our farmers since they are the ones who work hard for our food every day. Zagana is one of the online platforms which aim to support our local farmers. Its fruits and veggies are guaranteed fresh and safe since they are picked up straight from the source. You can contact them anytime at their Facebook account for any inquiries.
See the list of their products (including the discounted ones) on this website.
Spready Market
For those who want to buy good quality fruits, veggies, and meats priced like those in palengke/wet markets, perhaps Spready Market is for you. Just follow the 5 step process to order from them online. First, place your order on its website. Next, screenshot your order list then send it to their Facebook page. Once validated, process your payment. After that, they have a team to shop for your grocery list. The last step will be shipping the items to your house.
Fill-up this form to order from them.
Feel free to suggest if you know other small but reliable online groceries! Let's help one another.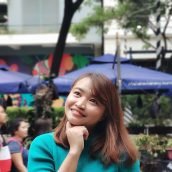 Queenie Lastra
Queenie Lasta got her bachelor's degree in Communications Research from UP Diliman. In her free time, she likes to read thriller novels, psychology books, and mangas. She believes in the importance of grit, hard work, and passion to become a great writer in the future.