Mr. Hat Gulaman's cool Philippines' fiesta dessert recipes
Hala bira meryenda!
Festivals, processions, parades. Held mostly during the hot summer months, many of us grew up with vivid memories of colorful costumes, beating drums, resounding chants and fiesta celebrations overflowing with traditional Filipino food.
Almost every house serving their specialties during the summer fiesta season. So, make your dessert buffet stand out while keeping the tradition alive. Serve the unique and unforgettable tropical flavors of the Philippines with Mr. Hat Gulaman's fiesta meryenda recipes. 
Meryenda Recipes
Cool down after dancing to the beat of summer festivities. Savor the sweet and creamy taste of panna cotta and the refreshing buko pandan sago gulaman. Taste the mango-flavored halo-halo and colorful jelly cake or fruity jelly. All made with Mr. Hat Gulaman's jelly powders, the fiesta dessertspreads offer a range of flavors. These flavore will surely delight guests and elevate celebrations. Hala bira meryenda!
Serve the tropical fruit jelly cake using Mr. Hat Gulaman's orange and white jelly powders. Mix them with your favorite fruits, coconut milk, and sugar.
Make the mango jelly and vanilla panna cotta using ripe mangoes, mango nectar and puree, yellow and white unflavored Mr. Hat Gulaman, milk, sugar, cream, vanilla extract, and salt. You can swap the mango flavor with buko pandan, coffee jelly, or your preferred flavor. Swap the color of the unflavored jelly powder as well to match.
Give the traditional sapin-sapin a twist by making a jelly version using white, yellow and red Mr. Hat Gulaman unflavored jelly powder. For this dessert creation, you will also need ube flavoring, coconut milk, condensed milk, glutinous rice flour and water.
For uniquely Filipino recipes such as crema de fruta, coconut gulaman cooler, ube taho or strawberry taho jelly, champurrado jelly pudding, among others, check out Mr. Hat Gulaman's recipes here – https://seanlucinc.com/recipes/?category=mr-hat-gulaman.
Best for your meryenda needs
With its unique blend of carrageenan, sugar, and other flavorings, Mr. Hat Gulaman's jelly powders can be used to make a variety of traditional fiesta desserts. Mr. Hat Gulaman's jelly powders are also versatile, easy to use, and perfect for all your meryenda needs. Whether you're celebrating a local fiesta or simply looking for a refreshing summer treat, Mr. Hat Gulaman has got you covered.
Make your own traditional and memorable fiesta drinks and dessert menu using tropical gulaman flavors. These are buko pandan, mango, orange, lychee, strawberry, grape and even coffee. 
Match the colorful fiesta colors and create your own distinct flavor using Mr. Hat Gulaman's unflavored gulaman which comes in black, orange, yellow, white, red and green colors.
Distinctly Pinoy
Mr. Hat Gulaman is a popular dessert ingredient in the Philippines that can be used to make a variety of sweet treats, such as jelly, flan, pudding and other types of desserts.
Furthermore, Mr. Hat Gulaman is a product of Philippine-based food and beverage company Seanluc, Inc. that produces a range of products. Its jelly powder is also made from the finest natural seaweed extract. Moreover, it is made from a mixture of carrageenan, sugar, flavorings and colorings. Carrageenan is a type of seaweed-derived ingredient that is commonly used as a gelling agent in food products. 
Mr. Hat Gulaman is easy on the pocket. Get all Mr. Hat Gulaman flavors for your fiesta and everyday meryenda recipes! Purchase Mr. Hat Gulaman at Lazada, Shopee and other retail stores nationwide.
For more updates and details, visit the Mr. Hat Gulaman Website. Follow Mr. Hat Gulaman on TikTok and Facebook.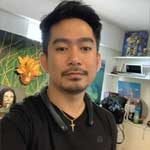 Josh Austria
Aside from being a businessman, Josh Austria has been working in PR and media industry for more more than a decade. From his years of experience as the Marketing and Advertising Head of Village Pipol Magazine, he has built strong relationships with creative people, brands, and organizations.