Max's Restaurant is the iconic Filipino restaurant chain famous for its Sarap-to-the-Bones® Fried Chicken. It celebrates every kind of dad with a special feast this June. As the upcoming Father's Day draws near, families are looking for great ways to show love and gratitude to dads. They have certainly been a source of inspiration, strength, and pride. What better way to do this than through their stomach?
Whether a biological dad, stepdad, single dad, granddad, or however else you call him, a celebration with delectable food will surely make his day. Max's Restaurant is offering its Father's Day Bundle where one can save as much as P383. For only P2,349, customers can get a sumptuous celebratory meal for a family of four to five.
The bundle includes a Regular Whole Fried Chicken, Lechon Kawali Kare- Kare, Tinapa Shanghai Roll, Gising-Gising, Tamarind Chicken Skin, Sizzling Corn Sisig, and a Large Plain Rice, plus a Choco Dulce Delight Mini Cake by Max's Corner Bakery.
The 5-inch Choco Dulce Delight is a moist chocolate cake. It has rich dulce de leche filling and frosted with luscious chocolate fudge icing. It's topped with a charming mustache-shaped chocolate tile as a symbol of appreciation for the loving father in each home. Expect everyone to devour this decadent dessert after an enjoyable meal. It can also be purchased separately for only P499 for dine-in. The Choco Dulce Delight Cake is available in Luzon stores except Naga and Palawan.
The special bundle is available for dine-in, take-out, and delivery until June 30 for a month-long celebration. For a hassle-free feast on Father's Day weekend, order in advance and get a free liter of Sago't Gulaman. Just order from June 1 to 15 for delivery on June 18 and 19 to avail the freebie, so it's best to plan early. Visit delivery.maxchicken.com or call 888-79000 (Metro Manila).
For more information, visit the official Facebook page at @MaxsRestaurant and use the hashtag #AllDadsAtMax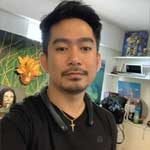 Josh Austria
Aside from being a businessman, Josh Austria has been working in PR and media industry for more more than a decade. From his years of experience as the Marketing and Advertising Head of Village Pipol Magazine, he has built strong relationships with creative people, brands, and organizations.