The Pokemon Company indeed leads the multimedia franchise around the globe. It has recently announced the arrival of its newest Nintendo Switch game, Pokemon Scarlet and Violet, this is just right after the successful releases of the remakes of Pokemon Brilliant Diamond and Shinning Pearl last November 2021, and the new open-world game  Pokemon Legends: Arceus last January of this year.
Yesterday, June 1, the franchise officially unveiled the 2nd trailer of Pokemon Scarlet and Violet. Of course, it came along with off-course additional information about the forthcoming game.
Lechonk, the newest addition to the over 900+ specie in the Pokemon world, and exclusive to Scarlet and Violet. The cute specie has initially captured the hearts of netizens, most especially here in the Philippines.
Notably, Lechonk seems to be a resemblance to the delicious Filipino cuisine, Lechon. And in Spanish, where the location of the game is based on.
According to the Pokemon website, Lechonk is categorized as a Hog Pokemon, and a Normal type. It may appear to be chonk at first glance. However, it is actually really toned due to its active way of life. It weighs around 10klg and has an Aroma veil or Gluttony as its special ability.
The Lechon, Nahhh Lechonk truly is trending and fan favorite. As of this writing, it now has 44.8K reactions, 6.8K comments, and 16.8K shares on the official post on the Pokemon Facebook page.
Meanwhile, other newly introduced Pokemons are Pawni, an electric mouse pokemon, Smolive, a Grass/Normal type. 
The two legendary, and Scarlet and Violet's game mascots Koraidon (Scarlet), and Moraidon (Violet).
As first revealed earlier this year, the starter Pokemon for this region are Spragatito (Grass Type), Fuecoco (Fire Type), and Quaxly (Water Typle).
Pokemon Scarlet and Violet will be available in Nintendo Switch Consoles on November 18, 2022!
Watch the trailer here:
What are you waiting for? Preorder now!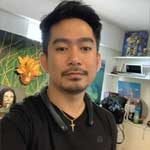 Josh Austria
Aside from being a businessman, Josh Austria has been working in PR and media industry for more more than a decade. From his years of experience as the Marketing and Advertising Head of Village Pipol Magazine, he has built strong relationships with creative people, brands, and organizations.