After a hiatus of more than a year, the Miss World Philippines is finally back. Over 300 women applied to be part of this prestigious pageant. However, the panel selected 45 candidates only. Joy Barcoma is one of these alluring ladies. Confident and dazzling, she shows how driven she is for the crown. She already even has her own hashtag, #JoyToTheWorld.
#JoyToTheWorld: Joy Barcoma on surpassing her limitations one at a time
Joy Barcoma describes herself as someone very ambitious. At a very young age, she started providing herself a financial backing by working as an Executive Assistant for two different companies. She also did freelance modeling while studying in college.
As a child, this 21-year old beauty once dreamt of becoming an astronaut just because she wants to see more of what's out there. Joy also expressed curiosity towards the justice system that she plans to be a lawyer someday. After completing her endeavors, Joy wants to help people experiencing injustice.
The idea of being a beauty queen did not dawn on Joy before. She used to think she isn't built to become one. Over the years, she overcame all the self-doubt, insecurities, and uncertainties. She started joining college beauty pageants and got crowned as Miss PUP 2017, Miss Philippine Association of State Universities and Colleges (PASUC)-NCR 2017, Miss PASUC National 2017, and Miss Philippine Islands 2017. This queen bagged four major crowns in just two months!
Some people saw her potential and helped her in joining Miss Mandaluyong 2018, in which she got the first runner-up title. She also won the Miss Pangasinan-Environment 2018 title then came as the first runner-up in Binibining Quezon City 2019.
Using the platform to educate Filipinos about mental health
By joining Miss World Philippines, Joy aims to promote awareness about Mental Health.
"Until now, it feels so surreal that I am finally giving myself not only a moment of a breakthrough but also an avenue to tell my story and to be in the forefront of a long-standing battle of wanting to be heard. My participation in Miss World Philippines galvanized my purpose and to be able to conquer the world through this, really adds weight to the gravity of my existence."
While the panel is interviewing Joy for the final screening, she had a panic attack. She recalled how she was trembling, almost losing her balance and her heart was pounding heavily. The judges noticed what's happening to her at that moment. But then, she did her best to make use of the situation. Joy remained strong enough to advocate for Mental Health and why she deserves a spot in the competition.
A holistic preparation towards the crown
Moreover, Joy shares how tedious and demanding the preparation for the pageant is. She said that they have multiple teams that handle various scopes to make sure they are giving their best. The process starts on planning schedules, shoots, pegs, and even the image they want people to perceive.
The beauty contestant also attends a lot of meetings regarding the projects that can strengthen her advocacy. Aside from that, she gets the right support and knowledge from people who can valuably contribute to her cause. Last but not the least, she focuses on self-development.
Mental preparation is the hardest part for Joy in joining Miss World Philippines. Although she finds the experience, overwhelming, she thinks that she's in the right direction and making the right decisions. She knows that she's making fast progress in her advocacy, fulfilling her purpose in every step.
For this young but capable beauty titlist, being a perfect Miss World is overrated. She is emphasizing the essence of embracing one's individuality. She's pursuing to be someone who can mirror the reality of being a human.
"I think it's high time that we choose someone who owns her story and humanizes herself through vulnerability. And with that, we don't even have to crown her, we just have to see the glory already sitting on top of her head."
Best of luck to you, Joy!
Photographer| Jai Murcillo
Words by |  Queenie Lastra
HMUA|  Daniel Forro
Assistant |  Ruel Malzarte
Stylist|  Kitkat Melo
Designer|  Ed Kutur
Shot in|  Village Pipol Studio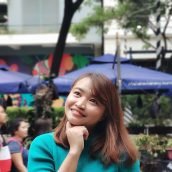 Queenie Lastra
Queenie Lasta got her bachelor's degree in Communications Research from UP Diliman. In her free time, she likes to read thriller novels, psychology books, and mangas. She believes in the importance of grit, hard work, and passion to become a great writer in the future.