DTI: You can now register a new online business in just 8 minutes
Apparently, there was a surge of business name registration for online shops here in our country from January to March. To keep up with the growing demand, DTI decided to adopt digitally as it launches an online tool for these entrepreneurs.
More online sellers for 2020 even with the pandemic crisis
Those who are planning to start their own business will have more convenience because the Department of Trade and Industry now has an online tool for registration. The Business Name Registration Division (BNRD) of the Department of Trade and Industry (DTI)  said that it takes less than 10 minutes to sign up for an online business. This means a notable growth of 4,178 percent in just that short period!
Also, the BNRD mentioned that the total number of business names registration as of September 2 is 712,657 is 12 percent higher than the total business names for the entire 2019 which is 637,690. There's a huge increase in business name registrations coming most from Luzon and other parts of the Philippines. The total applications in May are 9,692. However, the numbers grew to more than 33,000 business names last June.
Secretary Ramon Lopez added, "We are pleased to know that our citizens are starting their businesses right by registering their business with appropriate government agencies, such as the DTI. I think the end to end registration system is the reason for the increase. With the online business name registration system (BNRS), I believe that our entrepreneurs find it easier to comply as they can finish the entire registration process within eight (8) minutes. This platform is readily available to the public in the comfort of their own homes "
You can also pay the registration fee online
Lopez said that the fast adoption of Filipinos to e-commerce can be a silver lining in COVID-19. For that reason, the DTI is also increasing its efforts to promote e-commerce. Allegedly, they are doing that by building trust between consumers and merchants. They also put emphasis on micro, small and medium enterprises.
In addition to this, DTI also stated the increase in consumers making online payments during transactions. Last year, the government launched the BNRS Next Gen to allow end-to-end online registration of business names. Entrepreneurs can now pay the registration fee via credit card, Gcash, Paymaya, and Landbank's Link Biz portal. After that, they can download their certificate of BN registration through the BNRS Next Gen.
If you are leaning to the idea of registering your online shop, you can begin the process by clicking here.
Any thoughts on this DTI's efforts?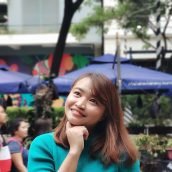 Queenie Lastra
Queenie Lasta got her bachelor's degree in Communications Research from UP Diliman. In her free time, she likes to read thriller novels, psychology books, and mangas. She believes in the importance of grit, hard work, and passion to become a great writer in the future.