SunStar
Many Pinoys prefer motorcycles over four-wheel drives because it's practically cheaper and consumes less parking space. Now that authorities reduced the maximum capacity among buses, jeepneys, and trains, this might be a good alternative means of transportation. Especially now that the government is allowing couples to back ride in their motorcycles beginning tomorrow.
Couples who want to back ride must always bring IDs
Department of Interior and Local Government (DILG) Secretary Eduardo Año just made an announcement that motorcycle back riding among couples will now legal starting Friday, July 10. Whether married or not, the government considers those living under the same roof as a couple.  Law enforcers will verify if a couple is living in the same house by checking their identification cards (ID)  for surnames and addresses.
Año explained, "Kung live in sila ganun din the same address din (If they are live-in partners, it is just the same they should have the same address). So there are so many ways para mapatunayan na they are living in the same house (to determine if they are living in the same house)."
Eduardo Año said in an interview that a technical working group (TWG) will carefully scrutinize the submitted designs. The group will give its approval if the team finds it to be safe for travel. "Simula bukas, papayagan na natin 'yung back riding para sa mga couple at 'yung prototype model na submit ni Gov. Art Yap ay approved na 'yan ng NTF (National Task Force)," he said.
DILG also requires a protective shield for back riding
Año explained that DILG permits this as long as there's a protective shield between the driver and the passenger. This is to prevent the droplets from being inhaled by both parties. Also, the protective shield should cover past the head and should have handles attached to its poles. He noted that the back rider and the driver should still wear face masks and helmets during their travel. There will be charges of violating Executive Order 1132 and other appropriate cases for those who will fail to comply.
With the new configuration of the motorcycle, Año said the driver should always observe the speed limit to avoid accidents or any untoward incidents. Meanwhile, the task force will continue to accept the submission of other designs and proposals from other individuals.
Aside from that, DILG Undersecretary and spokesperson Jonathan Malaya stated that same-sex couples are also allowed to back-ride as long as they are living together. He suggested that they get a certification from the barangay to prove that they are living together.
Do you think these new regulations for back riding are fair enough?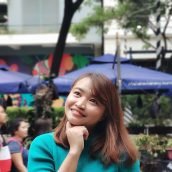 Queenie Lastra
Queenie Lasta got her bachelor's degree in Communications Research from UP Diliman. In her free time, she likes to read thriller novels, psychology books, and mangas. She believes in the importance of grit, hard work, and passion to become a great writer in the future.