Happy Women's Month to all the strong and beautiful ladies out there! It's time to celebrate womanhood and treat yourself to the best care possible. To further build your confidence and have you feeling like the best version of yourself, start off the month with these skincare essentials from NIVEA.
Celebrate Women's Month By Building Your Confidence With NIVEA
Change up your face cleansing routine. 
You need to choose a cleanser that effectively fights impurities and is loaded with the right ingredients to give you that glow and confidence. NIVEA Fair & Glow Hokkaido Rose Whip Foam is enriched with 36x anti-oxidants from Hokkaido Rose extracts to fight the effects of stress, pollution, dirt and toxins on your skin. Major plus – because it has 0% Alcohol, it effectively cleanses without drying you out!
#GlowGetItGirl and pair it with NIVEA Fair & Glow Hokkaido Rose MicellAIR Cleanser 0% Alcohol for best results.
Get glowing skin all over with a lotion that also keeps you feeling cool and fresh.
If you're hesitant to use a lotion because of the sticky feeling, you don't have to worry with Nivea Healthy Glow Cooling Lotus UV Lotion. It's a super light formula that's non-sticky and fast-absorbing, with CoolTech and Lotus extracts for an insta-cool sensation while giving you that healthy glow! It also has advanced UVA/UVB filters to keep you protected from the sun's harmful rays.
Try it for yourself, you'll definitely feel #SuperFreshSuperMe with every application!
Finish up your routine with a deodorant that makes you confident with your underarms.
Get a deodorant that not only protects you from sweat and odor. But also helps you achieve naturally pantay and smooth underarm skin, too! The NIVEA Deo Essence 0% Alcohol gives you guaranteed long-lasting protection from Hokkaido and Sakura essence that keeps your underarms smelling and feeling fresh all day. It also has Vit C and 36x anti-oxidants for naturally pantay and smooth underarm skin with regular use. Oh, and did we mention it has 0% alcohol and paraben? Now, that's skin-friendly.
Explore new things, move without worry, and have the confidence to #PutUrHandsUp!
NIVEA is available in Watsons, leading supermarkets, drugstores and online via Lazada, Shopee and BeautyMNL.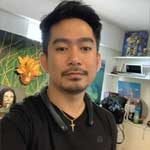 Josh Austria
Aside from being a businessman, Josh Austria has been working in PR and media industry for more more than a decade. From his years of experience as the Marketing and Advertising Head of Village Pipol Magazine, he has built strong relationships with creative people, brands, and organizations.