Why do doctors and consumers find Sharp air purifiers trustworthy?
As we stay indoors most of the time during this pandemic, it's a perfect time to make our home safer and more convenient. This may be one of the reasons why air purifiers became a popular home appliance – especially, Sharp Air Purifiers.
What some doctors are saying about Sharp air purifiers lately?
Air purifiers can refresh stale air, reducing the chances of health issues caused by indoor pollutants, which can trigger respiratory infections, neurological problems, or aggravate symptoms in asthma sufferers. High-quality air purifiers eliminate several types of indoor air pollutants, keeping us healthy. But with so many popping brands of air purifiers, how can we choose the right one for us?
The best way is to look for great feedbacks from reliable people such as healthcare professionals. For example, Dr. Kristine Lapus from The Medical City is highly recommending Sharp air purifiers due to their built-in plasma cluster ion generator. The mom/pediatrician says that they always use theirs at home to ease allergy symptoms. She also added that this home device prevents the dust and molds from clinging to the surface. It also helps to maintain the moisture of their skin so she and he family wakes up feeling fresh daily.
Meanwhile, an internal medicine doctor from Laguna named Dr. Joanne Robles express her compliments towards Sharp Car Ion Generator. Dr. Robles posted a photo of this car accessory along with the caption:
"So happy with this! Another item on my anti-COVID tita list checked! And I love the color too."
Home Buddies members are raving about air purifiers
Some members of the famous Facebook group Home Buddies also shared a lot of positive experiences about their Sharp air purifiers. Roland Cajis Austria posted a story about a Sharp Humidifying Air Purifier with PCI technology (KC-F70-W) since there were so many questions about it.  They just got it for PHP 7K because of a huge sale.
Roland said that this appliance is quite suitable if you have problems with dust, bacteria, odor, pet dander, smoke, mold, fungus, and virus particles. He further describes the product for the benefit of other members of the group.
Roland Cajis Austria said:
"Meron siyang 3-liter water tank for the humidifier, 'True HEPA' filter for microscopic particles, 'activated carbon' filter for deodorizing smells, tsaka yung 'plasmacluster' tech pang remove ng other pollutants sa loob ng bahay talaga. It has a quiet mode at night and turbo mode. Tapos power bill nya siguro abot ng Php 1k a year. May sensitive sensor siya for particles and air quality, kaya minsan nag automatic biglang mag turbo mode yan kapag galing kami sa labas or bukas yung pinto/bintana."

"Tsaka pati na rin kapag nagluto ng mashadong aromatic na food, o di kaya natagalan ng hindi naligo yung isa. Kumuha kami nito last year sa kasagsagan ng pandemic, tsaka may allergic rhinitis kaming mag-asawa. Tinatanggal din kasi nito yung allergens sa house, kunwari pollen or dust. Kaya walang alikabok samin ngaun. Hindi ko na maalala kelan ako huling dinatnan ng atsing sa bahay. All in all, a good investment for health, solid quality, super happy kami!"
Another member from Home Buddies stressed out how clean air is important, with or without a pandemic. Kath Mangahas from Quezon City uploaded a photo of not one, not two, but three air purifiers. She tells that she discovered air purifiers from the Sharp Philippines because her husband was suffering from allergic rhinitis.
Kath Mangahas also added:
"When we started living together, I see him suffer from it every morning and whenever he has been exposed to dust. A clogged nose, nonstop sneezing, and occasional migraines, you know the drill. Our house is "sealed" and I vacuum twice a day and I would say I am pretty much of a Monica Gellar when it comes to cleaning. We also noticed that whenever we visit Japan, his allergic rhinitis seems to go away. Aside from the very noticeable clean air in JP, they are very fond of using air purifiers with ionizers."
Because Kath and her husband saw that Sharp is the brand the Japanese people often use, they decided to buy one. They bought the FP J30E for their bedroom, then her husband's allergy instantly vanished. After a week of observation, they purchased the air purifier and mosquito catcher FP-GM50E-B. It worked like a charm for them so they got another model FP FM40EB air purifier/mosquito catcher. Kath said that they are also planning to buy a car ionizer soon because of the brand's great reputation and consistency.
As you can see from these experiences, Sharp air purifiers do not disappoint.
These products got the seal of approval from ordinary users and even doctors. This simply means that it's a worthy investment if you want to enjoy cleaner air indoors. To know more details about air purifiers from the brand, you can visit Sharp's official website.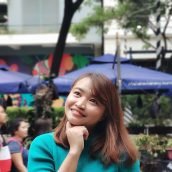 Queenie Lastra
Queenie Lasta got her bachelor's degree in Communications Research from UP Diliman. In her free time, she likes to read thriller novels, psychology books, and mangas. She believes in the importance of grit, hard work, and passion to become a great writer in the future.