Raise your hand if you awkwardly freeze when you're on camera! We all want to have beautiful and timeless photos but there are times that we get nervous and self-conscious in front of the photographer.
Every nook is IG-friendly
Well, say goodbye to your fears since self-studios are now becoming a thing here in the Philippines! Finally, you and your loved ones will be able to take some amazing shots at your own pace. The concept originated from Koreans, and even Hallyu stars there visited this kind of studio. This triggered my curiosity so I visit one of the few local self-portrait studios, the UFOTO.
The studio's Facebook account mentioned that you need to reserve a slot first so we message them right away to ask for an available date and time. The place is easy to find, it's located in a quiet subdivision in Bacoor that's a few minutes drive from Evia Lifestyle Center.
Note that they have outdoor parking in front, but the space is limited. To avoid parking problems, we strongly advise going there 10-15 minutes before your schedule.
UFOTO is the brainchild of photographers/videographers Marco Sumargo and Angelie Villegas who are both in their early 20s. When the pandemic took a hit on the events industry, the two have decided to have another source of revenue. So when a vacant space opened up near Marco's residence, they grabbed the chance and started renovating the place. After the renovation, they decided to have a soft launch this month of February.
Ms. Angelie said that she wanted to incorporate a bit of Korean aesthetics in the studio's mid-century modern interiors. I instantly fell in love with the relaxing hues of white, grey, and beige.
The tiny succulents, on the other hand, gives a fresh pop of color. They also have cute and quirky decors on the wall plus a magazine stand on a corner.
Meanwhile, my favorite piece in this room is the stylish full-length mirror which is custom-built for the studio. This is useful not only for mirror selfies but also for double-checking your outfit before the shoot.
In terms of the health and safety of customers, the owners provided a temperature sensor and an air purifier We think that the air purifier is a big help since it can eliminate allergens from pet danders, plus viruses, and bacteria as well.
How does it work?
After I did my quick make-up retouch, Ms. Angelie guided us to the room for our self-portrait. I felt giddy just by looking at the high-end equipment and the props that we will be using.
The owners connected the Sony Alpha DSLR camera to a flat-screen TV. In this way, we can see our image clearly, from head to toe since the TV is rotated vertically. If you and your companion are already happy with your poses, just press the tiny remote control.
The set-up also includes umbrella lighting to produce broader, diffused lighting (similar to outdoor light). There's also an option to choose from a white or gray background. For this session, we had an hour to come up with different poses (which is definitely hard so I had to Google for some inspo).
Thank God, there are different stools in there. You can also include your furbabies in your session, just make sure to inform them beforehand.
It's also a good thing that we brought another set of clothes. There's a changing room inside the establishment so no need to worry about this. The lesson learned is you must save pictures as pegs before coming for your photoshoot.
See Also
The time block for the shoot is every 15 minutes so the timer rings to remind you if your time is up. After the session, we went back to the reception area to choose photos we want to print out. The standard for packages is 2 printouts but the group photos can have up to 5. For raw files, there's an option to get them via email or airdrop.
Just looking at the photos on the monitor, I can really see the quality of the images taken in the studio. The colors are vivid but quite natural. I also love the fact that our complexion seems smooth (even prior minor edits). Note that the result is quite different from the photo-editing apps on our phones. I'm even more impressed by how the photo printouts looked!
As of writing, UFOTO has three kinds of packages namely solo, duo, and group. The price starts at PHP 500, you can just pay extra for additional services not included in your chosen package. For this kind of service, we think that it's pretty much affordable. Renting out photography equipment is not that cheap guys, especially the top-tier DSLRs.
Ms. Angelie also mentioned that they offer studio rentals, minimum of 3 hours. This allows exclusive use of the studio and the receiving area for a maximum of 10 people. To avail of this, you must contact UFOTO first.
Overall, we had an amazing time trying this self-portrait photography. I highly recommend UFOTO for those who want a "tipid" shoot for prenups, anniversaries, debuts, and other special occasions.
To know more details about this studio, you can visit UFOTO on Facebook and Instagram. To book a session, you can simply click here.
Have fun and snap away!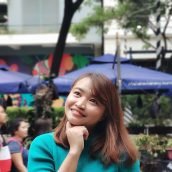 Queenie Lastra
Queenie Lasta got her bachelor's degree in Communications Research from UP Diliman. In her free time, she likes to read thriller novels, psychology books, and mangas. She believes in the importance of grit, hard work, and passion to become a great writer in the future.