As we continue to depend on electronics at home and in the workplace, the pollution in our environment gets worse. Electronic waste or e-waste refers to electronic products that no longer satisfy the needs of the consumers. These can include a wide variety of goods like computers, cellular phones, TVs, washing machines, and video cameras. So what can we do about our electronic waste?
Helping consumers to throw away their e-wastes responsibly
Thankfully, Globe Telecom and PLDT Inc have initiated separate programs to collect e-waste and idle cables. Both of these companies aim to promote safe and environment-friendly services. For PLDT, they recently had an agreement with the local government of San Juan to remove dead and idle wires and fix sagging cables and tilting poles. They also recover copper cables as these are no longer necessary for PLDT Fiber users. PLDT-Smart Network Operations First Vice President Debbie M. Hu said."We are implementing the programmed preventive maintenance on the barangay level, starting with those having high trouble index and poor line condition."  Because of this program, the telco was able to inspect 21 barangays in San Juan, Manila.
According to Alfredo Panlilio, the clean-up drive is part of the PLDT-Smart expansion programs as they cater to the increasing demand for connectivity. They plan to invest PHP 88 -PHP 92 billion in capital expenditure this year.
On the other hand, Globe Telecom launched its E-waste Zero program to assist consumers in disposing of old mobile phones, excess cables, chargers, and others. According to the company, they put at least 10 bins in several location points like Globe stores and malls for the collection of e-waste. For larger electronic items, consumers can request a pickup for them. Globe Chief Sustainability Officer and SVP for Corporate Communications Yoly Crisanto added, "Globe recognizes the importance of taking this extra step in ensuring e-wastes are disposed of properly and can't be harmful to the environment. We would like to enjoin our customers to help dispose of e-waste properly".
Last year, the program already collected and disposed of over 250,000 kg of e-waste. Globe said that they have a total collection of more than 1.4 million kg since 2014.
Great job, Globe and PLDT for your eco-friendly advocacies!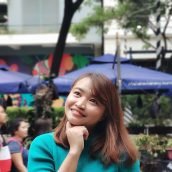 Queenie Lastra
Queenie Lasta got her bachelor's degree in Communications Research from UP Diliman. In her free time, she likes to read thriller novels, psychology books, and mangas. She believes in the importance of grit, hard work, and passion to become a great writer in the future.