The word "smishing" comes from combining words "SMS" (for short message service, like texting ) with "phishing." Phishing is the practice of stealing personal or financial information through deceptive communications, primarily emails. Basically, it's phishing by another means, namely text messages on mobile devices.
Someone offering you a job via SMS?
For example, you might get what looks like a text from a company you do business with, such as your bank, a mobile provider, or a tech service like Netflix or PayPal. Lately, I've seen many posts that they have been receiving texts about job opportunities, all from unknown numbers. I also had the same experience, one is even insisting that I won a raffle content even I did not join anything.
This is why regulators requested telecommunications firms to use their SMS blasting capabilities to warn users against clicking the link contained in spam messages. NPC Commissioner Raymund Liboro said that clicking the link leads to phishing sites.
After you click that link, the cybercriminals will ask you to invest your own money first before receiving commissions from the "sketchy job offer".
Telcos are already doing what they can to solve the issue
But there's a silver lining amidst these gray clouds. The commissioner said that the public can expect a decrease in the volume of SMS spam in the coming days. Telco providers in the country had already ramped up their efforts to fight smishing. Globe and Smart, for example, said that they have been blocking numbers, messages, and IP addresses related to illegal activities.
You might be thinking, "where did this cybercrime begin"? If you're thinking that someone is selling your details from contact tracing, then you might be wrong.
Liboro said investigations led the NPC to believe that a global organized syndicate could be behind the scam. He added that the agency is also looking at data aggregators. Cybercriminals could possibly be using them for spam. Note that this is allegedly not an isolated case. Smishing is now also prevalent in other countries such as India and Singapore.
Let's also do our part and be aware of what to do when we suspect that we encounter text spam. Do NOT provide personal or financial data in response to an unsolicited text or at a website the message links to.
Moreover, click on links in suspicious texts. They could install malware on your device or take you to a site that does the same.
The more notorious cybercriminals are, the more vigilant we all should be. If something is too good to be true, it probably is.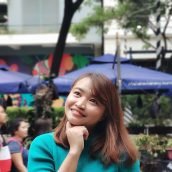 Queenie Lastra
Queenie Lasta got her bachelor's degree in Communications Research from UP Diliman. In her free time, she likes to read thriller novels, psychology books, and mangas. She believes in the importance of grit, hard work, and passion to become a great writer in the future.