Lovi Poe will star in the Hollywood film The Chelsea Cowboy.
The movie is a biopic featuring the life of actor-gangster John Bindon.
On Wednesday, August 25, Deadline reported that Lovi will portray Dana Gillespie, a British singer hired by Bindon as security.
Moreover, Gillespie connected Bindon to high society, which led him to meet Princess Margaret.
Furthermore, Deadline cited a biography, linking Gillespie as lovers of David Bowie, Michael Caine, and Sean Connery, among other big-time celebrities.
Lovi will work with Hollywood stars Alex Pettyfer and Poppy Delevigne.
Meanwhile, Ben Cookson will direct the film while Leon Butler wrote the screenplay.
The film's executive producers are Idris Elba and Victor Glynn.
Cookson told Deadline about Lovi,
"The team and I are delighted to have Lovi onboard and can't wait to see her portrayal of Dana Gillespie – a sixties icon and charismatic singer and actor, whose own life would indeed make an amazing biopic."
Additionally, The Chelsea Cowboy will begin filming in late September 2021.
Upon release of the Deadline article, Lovi took to Instagram to confirm the good news, saying,
"Aaaah….can't wait to start filming The Chelsea Cowboy in October. The film is a biopic based on the life of actor, gangster, and lothario John Bindon. I'll be playing blues British singer Dana Gillespie!"
Furthermore, Lovi's celebrity colleagues Vhong Navarro, Zsa Zsa Padilla, and Iza Calzado congratulated the actress for this feat.
The Chelsea Cowboy has yet to announce its target date.
In recent times, Lovi starred in Filipino films such as Malaya, Hindi Tayo Pwede, and The Annulment.
Congratulations on this achievement, Lovi! Wishing you all the best in filming!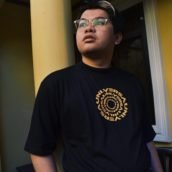 Kobe Adam Joshua Laurena
Kobe Adam Joshua Laurena is a writer who loves to tell stories from the perspectives of different people and everyday life. Apart from the pen, he loves to pick up the lipstick to transform into his frustrated drag persona: Anita Good Lovin'. He aspires to combine his love for writing and drag by creating a novel, short story, or screenplay about local drag queens in the future. He also has an obsession with sitcoms, women's pro-wrestling, and Funko Pops.