While she is already a sensational internet topic herself, here comes another non-average behavior from Sandara "Dara" Park that got her the eyes of the internet.
During the prestigious Paris Fashion Week (PWF) 2022, Dara is said to have received personal invitations for 12 events, the GMA News reported. Among the name brands lined up for her are Courrèges, Balmain, Chloé, Rick Owens, Off-White, Giambattista Valli, and Yohji Yamamoto.
In addition, included as well are Christian Louboutin, Kenzo, Ann Demeulemeester, and Vivienne Westwood. As she joined this quintessential gathering for fashion enthusiasts, the former 2NE1 member showcased different stunning outfits.
Speaking of which, one PFW getup she displayed on her Instagram instantly led people to start talking. In a post dating October 2, Dara excites her admirers through the revival of the Vegeta hairstyle that already made a buzz once!
As seen in her series of pictures, she donned an edgy but elegant lustrous ensemble by Vivienne Westwood. Dara added the finishing touch to this fashionable look by sporting the ever-legendary and familiar raised-up hairdo.
In April this year, Dara debuted the memorable coiffure during her reunited performance with former 2NE1 bandmates at the Coachella 2022. The occasion was a belated celebration of their 13th anniversary as a group after the disbandment in 2016.
To date, Dara's Instagram post with her Vegeta hairstyle is close to reaching 300k engagements. Apart from her followers, prominent names, local and international, stopped by the comment section to compliment Dara's unmatched style.
Indeed, there is no doubt of the indelible relevance of our Sandara Park. Here's to many other head-turning queen behaviors from her!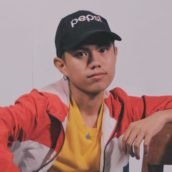 Renzneil Robles
Renzo is an introvert who prefers to do things at his own pace. Unlike most writers, he reads lazily. Watching Korean dramas at night is his constant source of comfort. Although oftentimes commended for being outspoken, he speaks better through writing than with his words.