Jennie Kim is popularly known as a member of the internationally acclaimed KPOP Girl Group BLACKPINK, where she is the main rapper and lead vocalist.
With 67.4 Million followers on Instagram (jennierubyjane), Jennie always sets the trend for fashion.
Her stylistic poise, confident and charming aura compliments her outfits, making her the fashion icon of the group.
So, here are some casual outfits inspo that we are definitely copying from Jennie!
Show how fitted you are with a knitted top
This pistachio buttons lace knitted cardigan shirt and black high-waist pants look perfectly cute for Jennie's fit.
Pairing it up with a necklace and a matching small shoulder bag will make you feel ready to stroll around the city.
Its simple yet stylish design speaks a lot about how Jennie performs while pulling off a perfect outfit for it.
In an interview with Elle Korea, Jennie shares that she works to express a message through music and visuals with her style, simultaneously trying to connect melody and fashion.
Wear a shirt on the outskirts
Nothing can be simple by just wearing a white shirt but for Jennie? It looks very extra.
She looks chic by pairing the shirt with a short skirt, black shades, and boots!
Jennie can carry the clothes no matter how simple they seem, so it's no wonder she became the ambassador of some biggest brands worldwide.
She is the Chanel House Ambassador, Hera Muse/Global Ambassador, one of the endorser Of Calvin Klein Jeans, and Gentle Monster where she has her own collection and design of eyeglasses.
Show your back and rock
Going a little sexy, Jennie having a cute face, change her game in styling with this backless crop top strap long sleeve.
Pairing it up with brown high-waist pants does not just highlight her sexy back but her waist too!
She is known for her stunning body, complimenting it with her impeccable style that many people adore this year's campaign photos with Calvin Klein.
Tie-dye top that you must buy
Flex your shoulders with this brown tie-dyed diagonal shoulder camisole partnering with a highwaisted pants.
It's another top worth the trend! Who knew that tie-dying brown and white will look this chic?
Jennie has been chic in her outfits since her debut, and her fashion style is more seen with her chart-topping digital single "SOLO" last 2018.
Wearing White is absolutely right!
This white square neck crop top with a little puff on the sleeves looks flattering!
This top elongates Jennie's neck and narrows her shoulders, making it not chic but classy too.
It seems like any clothes that she wears will still accentuate her features, no wonder why she became the cover of some well-known magazines.
See Also
Jennie became a cover in South Korea's Top magazines like ELLE, Cosmopolitan, Harper's Bazaar, W, Vogue Korea, and Marie Claire.
Wear Brown and your Crown
Aside from the aesthetic effect of the film cam, Jennie's outfit and pose made the photo splendid!
Giving a vintage vibe, this brown square neck knitted and ruffled strap top paired with a black High waist baggy pants is a bop!
What added more perfection to it was Jennie's pose and alluring eyes.
Her versatility as an artist and model at the same time made her successful not only in music but fashion industry too.
Jennie said in her VOGUE interview that when creating a new visual with a brand, she feels like it's a different type of accomplishment and pride than when working on music.
Pull-over for a game over!
Giving you extra comfort, Jennie wearing this lemon green pullover with sweatpants and white rubber shoes is not just definitely cozy but stylish too!
In the same interview, she was asked if she had plans to launch her fashion line, and Jennie said that she had not thought of it yet
However, if she wants to portray a comfortable and natural side of herself, people can wear clothes easily and comfortably instead of wearing extravagant designs.
Style Icon
Jennie is more than just a musician but also plays a large part in fashion trends.
She does not only have a long way of career ahead of her in music but in fashion too!
Have you enjoyed these outfits, Inspo? Well, you have to plan your next OOTD now!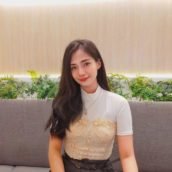 Veronica Louis Gannaban
Nica is a resin artist, watercolor painter, and writer. She loves putting art into life because it feels liberating. She believes that the most powerful form of art is through words, for it can set us free. Her life is sweeter than fiction because of Taylor Swift's music, fur babies, and chick flick movies.