Josh Austria
The new Hanabishi Air Fryer. As a working individual, I'm always in a hurry and cooking has never been this easier! You can cook potatoes & fries, meat, and poultry, and even snacks.
The air fryer simulates deep frying without submerging the food in oil.
Just pop it in the air fryer and you're good to go. And the best part, it is healthier and more practical too! One of the largest Air Fryer in the market with a 7-liter capacity. It also comes with a spacious air fry basket and cabinet. It has an eye-catching red color which perfectly suits your kitchen countertop.
It also has a non-slip base, 1 to 30 minutes cooking time setting, 100 to 200°C temperature manual control. Unit measurement is 380x325x385mm, frying basket: 240 X 250 X 140 mm, and cabinet 260 X 270 X 150mm.
Sharing with you my easy recipe:
PORK CHOP WITH SALT AND PEPPER
Ingredients
4 pork chops boneless or bone-in
Seasoning
Instructions: 
In a bowl combine all the seasoning ingredients.
Coat the pork chops in the seasoning
Preheat the air fryer to (180 °C)
Place the pork chops into the basket of the air fryer.
Cook for 10 to 15 minutes.
Benefits of Air fryer
Using air fryers can promote weight loss
Air fryers can be safer than deep fryers
air fryers reduce the risk of toxic acrylamide formation
cutting down on deep-fried foods reduces diseases risk
Serve & Enjoy.
FEATURES:
3.2-liter capacity
1 to 30 minutes cooking time setting
Non-slip base
Rated voltage: 230 V
Rated frequency: 60 Hz
Packing size: 310x310x365mm
Unit dimension: 280x330x330 mm
THE VERDICT
Quality – I love the texture of the output (air-fried pork chop) as it was tender and juicy.  For some reason, the moist was kept inside the meat.
Healthy – The feeling of non-guilt as the food was not soaked in oil during the cooking process but rather the Hanabashi Air Fryer extracted the oil thus making it healthier.
Safety – No more oil burns as the food was secure inside the air fryer during the entire cooking process.  No more oil spills making your kitchen cleaner also.
Capacity – With the 3.2-liter cabin, you can easily cook a whole chicken inside the air fryer.
Convenience – Hassle-Free Life!  Just marinate and put it inside the Air Fryer and like magic, you have a ready-to-eat meal for the entire family.
I'm excited to cook my favorite fried chicken and more dishes, I'm officially a Home Cook Now! Being one of this season's trending appliances, grab your chance to have your very own Air Fryer. For the first time, a slight smoke or odor may be emitted. This is normal and subside. Ensure that there is sufficient ventilation around the health fryer.  Check out Hanabishi Air Fryer HAFRYER70 on Shopee Mall now!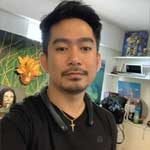 Josh Austria
Aside from being a businessman, Josh Austria has been working in PR and media industry for more more than a decade. From his years of experience as the Marketing and Advertising Head of Village Pipol Magazine, he has built strong relationships with creative people, brands, and organizations.