BOOYAH! SB19 debuts live on US television through 'Good Day New York'
(Photo from SB19 on Twitter) SB19 members with Rosanna Scotto of Good Day New York.
Supreme P-Pop group SB19 raked another milestone of debuting international television by guesting live on the US show "Good Day New York."
Power Women of Manhattan awardee and host Rosanna Scotto revealed the announcement to fans last Thursday. In a Tweet, she brought the news that the Filipino ensemble will grace Good Day New York, a three-decade-running program airing on the US-based station WNYW Fox 5.
On November 4, Pablo, Josh, Stell, Ken, and Justin appeared on the show. They rendered an all-out performance of their latest single, Where You At. This guesting was ahead of their much-awaited WYAT Concert Tour to be held the day after at the Palladium Times Square.
Moreover, SB19 paid a visit to the Philippine Consulate General in New York before the TV appearance. The bandmates met and serenaded Consul General Elmer Cato by singing their hit ballad song MAPA.
Meanwhile, A'TIN showed sincere support for the band by penetrating Twitter's nationwide and worldwide trends hours before the show. As of writing, the fandom accumulated a massive 1M tweets and counting for the #SB19onGoodDayNewYork tag alone.
Through their official update, SB19 described the experience as "surreal." On the other hand, members Josh and Ken shared photos online to thank Good Day New York. Their debut on the US show is an achievement no one else in P-Pop has made other than SB19.
Last night also led to an unexpected sentimental hour for A'TIN as they celebrated the milestone and looked back at the past. SB19 demonstrated the Go Up point dance during their guesting. Thus, it reminded admirers of when the quintet got viral in 2019.
Since its breakthrough three years ago, SB19 has continued making names in the local and international settings of the music industry. Remarkably, their triumph contributed the most to the rise of P-Pop, now slowly introducing itself to the world.
For more updates about the group, follow SB19 on social media. You can watch their Good Day New York guesting here.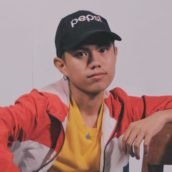 Renzneil Robles
Renzo is an introvert who prefers to do things at his own pace. Unlike most writers, he reads lazily. Watching Korean dramas at night is his constant source of comfort. Although oftentimes commended for being outspoken, he speaks better through writing than with his words.