In practically every Filipino get-together, there is lumpia, a spring roll made of paper-thin wrapper, stuffed with various savory or sweet fillings. This well-loved dish has recently gone from table to TikTok, thanks to food creators on the app who have been sharing their own lumpia recipes with a twist. A quick look at the trending hashtag #NotYourOrdinaryLumpia will show you how these creators have taken the classic Filipino favorite to the next level.
Now that summer has arrived, it is a great time to discover some cool and unique ways to prepare lumpia. Check out these #NotYourOrdinaryLumpia dishes from TikTok that are perfect for the hot weather.
Milk Tea Lumpia
https://www.tiktok.com/@masterboba_/video/6930037606755437826
Milk teak lovers are sure to enjoy this cream and boba-filled version of lumpia, which is finished off with a brown sugar sesame glaze.
Halo-Halo Inspired Lumpia
https://www.tiktok.com/@lunchboxerph/video/6930894226188291329
Halo-halo is a summer staple in the Philippines. This unique lumpia, which uses classic halo-halo toppings as filling, is best served with a scoop of ice cream on top.
Fruit Salad in a Lumpia
https://www.tiktok.com/@foodietarsiidae/video/6935013744854453506
This is filled with mixed fruits that are typically used for fruit salad. You can drizzle the creamy dressing on top before you eat or serve it on the side as a dip.
Ice Cream Lumpia
https://www.tiktok.com/@mr.cabanting/video/6934269812650593537
For a unique dessert that is hot and cold at the same time, try this ice cream-filled snack. Enjoy it with your favorite sundae toppings, such as whipped cream, crushed cookies, and nuts.
Pineapple Cream Cheese Lumpia
https://www.tiktok.com/@chefkizs/video/6935988323928263938
Summer is the best time to enjoy pineapples in the Philippines. This version of lumpia is filled with a combination of sweet pineapple chunks and tangy cream cheese, and is rolled in sugar before frying.
These #NotYourOrdinaryLumpia dishes are just some examples of innovative recipes that you can find on TikTok. Explore more delicious food content shared by amazing creators on the app, and be inspired to try them yourself. Download TikTok on your iOS and Android devices today to get started.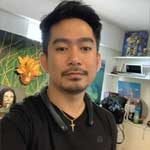 Josh Austria
Aside from being a businessman, Josh Austria has been working in PR and media industry for more more than a decade. From his years of experience as the Marketing and Advertising Head of Village Pipol Magazine, he has built strong relationships with creative people, brands, and organizations.