A wake-up call to those who contended the group shall remain politically neutral, SB19 has made clear their stance in the Philippine politics― choosing, as they should, the side that has no color, the side of the people.
P-Pop formation SB19 slaps some sense to enablers of rotten governance by using power. And by power, we mean to say their latest delivery of a protest song with Ben&Ben.
On May 5, the folk-pop band, in collaboration with the Filipino boy group, released a brand-new performance video of the track Kapangyarihan. Explicitly, the music piece addresses corruption, dishonesty, injustices, human rights abuse, and the attack on the freedom of expression.
Looking back, Kapangyarihan was launched officially around August of 2021. The song was a composition of Paolo and Miguel Benjamin, with SB19 Pablo taking the lead to write additional verses. On the other hand, both groups denounce bad governance by fighting for truth against lies.
Philippine politics is a system of cheap tricks, dirty schemes, and a cycle of twisted narratives partaken by both leaders and their supporters. And it is no coincidence that the Kapangyarihan performance video came at such perfect timing. It is tributed to the upcoming elections to prompt everyone to choose the right persons to sit on the throne.
Certainly, Kapangyarihan by Ben&Ben and SB19 calls out crooked politicians who should be serving the people. However, it is also a reminder to check on our privileges. Ask if we must, in promulgating the system we hate, how are we innocent?
This May 9, vote not for your candidates but for your well-being. After all, your future in the next six years is someone else's future too.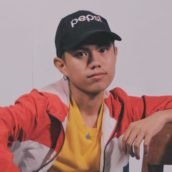 Renzneil Robles
Renzo is an introvert who prefers to do things at his own pace. Unlike most writers, he reads lazily. Watching Korean dramas at night is his constant source of comfort. Although oftentimes commended for being outspoken, he speaks better through writing than with his words.