Make-up artists are usually behind the scenes. They are the genius artists who unravel what beauty is through their creative pursuits or adventurous take on aesthetics. One make-up artist who is pushing the envelope and who's trying to get beyond conformity is Raffy Prieto Francisco.
He knows the industry is cutthroat, but he's looking forward to playing his cards well and doing whatever it takes to make a mark in the industry and achieve his childhood dream of becoming a renowned make-up artist.
Raffy discovered his passion in High School when he was still a Theater actor. His co-actors can't do their make-up, so he volunteered to help, and he found his knack from it.
His creative pursuits didn't stop there, as he was asked to do the make-up for a candidate in a university pageant in Malabon. There, he met his mentor, Kyle Lopez, who asked him if he wanted to be an apprentice. Elated for the opportunity, he grabbed it right away without thinking twice. In 2013, he tried to do solo, and everything turned full circle from then.
What's more inspiring is that he is self-taught, and his fully developed skills were honed through years of practice and many triumphs and so as setbacks.
"I'm highly critical of my work, but what I'm proud of is that I listen especially to the people I look up to industry. Whenever I get feedback, I take it as a gift and try my best to do better every time. This craft is not only my bread and butter but also my passion. I'm a breadwinner, and it has been helping our family; plus, I love making other people beautiful and feel good about themselves", Raffy said.
Asked what's his favorite look, Raffy said that he can go from a no-make-up look to sumptuous glam. As per him, he loves to experiment with looks. "Sometimes, I can go extra and explore my creativity. These are the moments when my adventurous spirit takes over, but there are times that I just want to stick with enhancing someone's look by highlighting their God-given looks. Most importantly, the end goal is to make my client happy, and that's when I'm the happiest.", he said.
Raffy added that his favorite is doing wedding make-up. He said he feels elated when doing so because it's once in a lifetime and he loves being part of that milestone.
"By doing bridal make-up, I'm able to touch their lives. Making them beautiful on their most important day gives me a sense of fulfillment", Raffy said. That experience is surely larger than life, and being part of someone's milestone can be a fleeting experience". He'd love to have celebrity muses as well and to work with Internationally acclaimed magazines; it's the ultimate goal, according to him.
As per him, the next step is to build his brand, to be able to work with established creatives and brands as well. Right now, his aesthetics is the no makeup look to glam look, but per him, he likes to explore more other styles and push the envelope as ideas usually come around when you're trying to explore. He knows it will be tough to be noticed in a sea of creative visionary make-up artists, but with his dedication and unparalleled hard work, he knows nothing is impossible. With God and the people who put faith in him supporting him, he can only look forward to what lies ahead. As for now, patience has been his main weapon, and he is just so grateful for all the opportunities coming his way.
To know more about him, check his IG account @imraffyfrancisco.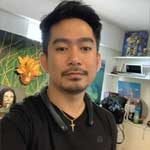 Josh Austria
Aside from being a businessman, Josh Austria has been working in PR and media industry for more more than a decade. From his years of experience as the Marketing and Advertising Head of Village Pipol Magazine, he has built strong relationships with creative people, brands, and organizations.