INSTAGRAM RAID: LITZ Fatima and her ethereal visuals
Fatima Venisse Aonuevo is a 20-year-old member of LITZ, a PPOP Girl Group under Viva Records. She debuted with LITZ on March 8, 2022, with their song Kidlat, which currently has 300k+ views on its music video on YouTube.
Despite being new, she has proven to us how talented she is when it comes to dancing and singing. More than that, Fatima's visuals are undeniably breathtaking! Let's take a look at these photos and get to know her more!
INSTAGRAM RAID: LITZ Fatima and her ethereal visuals
 Surreal Look
Get drowned with the alluring almond eyes of Fatima in this photo! This is one of her debut photos with LITZ's single "Kidlat."
Aside from being a member of LITZ, Fatima is also a part of the supergroup Pop Generation. She was introduced as the 14th member of the PPOP Generation on April 12, 2019. They have also released their first single, titled, "Boom Ganda".
Enchanting Visual
Another close-up photo of Fatima accentuating her soft and delicate features! This look is from their music video Kidlat where she together with her members did not only show their talents but highlighted their visuals too.
Aside from being pretty, her hobbies are dancing, reading books, and taking photos.
Simplicity is beauty
We can't take away our eyes with Fatima's natural beauty in this photo! This look is from the music video "Fading Away" by Amiel Sol, released last month. In the MV, you can see that Fatima can also act! As she was in the scene crying during a break-up,
Meanwhile, in the LITZ segment on YouTube WHO's WHO, members voted her as the saddest girl in the group. Fatima shared that members already know when she is sad and they try to cheer her up.
Irresistible Smile
If Fatima smiles at you like this?! You will give her what she wishes for! This photo is taken from Wish Bus 107.5 where they performed the pop rendition of "Natataranta" by James Reid.
As said by fans, her charming point is her smile and we could not disagree with it! You can get a smile from Fatima if you give her her favorite food: potatoes.
Stand Gorgeously
We could not get away with how gorgeous Fatima looks and poses here! She stands tall in this photo, with her 159cm height, and she is ready to reach her dreams!
She with LITZ are rising artists that we should watch out for! This July 15, LITZ will be performing at Tugatog Filipino Music Festival happening in Mall of Asia Arena.
You can follow her accounts @litz_fatima and @litz_official for more updates about their journey. We're rooting for your success with LITZ, Fatima!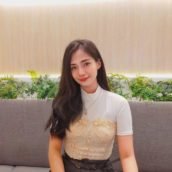 Veronica Louis Gannaban
Nica is a resin artist, watercolor painter, and writer. She loves putting art into life because it feels liberating. She believes that the most powerful form of art is through words, for it can set us free. Her life is sweeter than fiction because of Taylor Swift's music, fur babies, and chick flick movies.