Maria Leonor Baracena Valentin, popularly known as "Lianne Valentin," is a Filipino actress, dancer, and model from GMA Network. First seen on Tropang Potchi, she now portrays the role of a kontrabida in Apoy Sa Langit.
From the role of being a child star, let us get to know Lianne Valentin in her Instagram photos:
Ready for mature roles
Lianne wears a black puffed-sleeve top with her hair tied up looking like she's ready to step up her game. Setting the standard for young actresses, she plays a daring role in Apoy Sa Langit. Portraying the role of Stella, she messed up the lives of a family. She pretends to be Cesar's daughter, revealing later on that she is actually a mistress. Only twenty years old, Lianne definitely stepped outside of her comfort zone and showed what she is capable of.
Burning with passion
Standing tall in this pretty white dress, Lianne is ready to grow as an actress. First appeared in Tropang Potchi as a child, she actually won a PMPC Star Award for Best Children's Show Host. She continued her journey in acting until she received a very mature role.
In an interview with Manila Bulletin, Lianne said she wants to have growth in her career. She also wanted to try new things and feel challenged in her next shows. Aside from that, she also mentioned how she actually criticizes her acting skills in order to improve them.
Lianne shows her passion for acting, especially when he becomes committed to the character and doing what must be done in every scene.
Born to be an actress
Despite the simplicity of her outfit, she still looks stylish, edgy, and chic in this outfit – glowing like her very own career. It seems like she was born to be on television and, even on the big screen.
She has already played many different characters – Princess in the Palace (2015), Meant To Be (2017), Super Ma'am (2017), Sherlock, Jr. (2018), Kambal Karibal (2018), and Kapag Nahati Ang Puso (2018).
She also played roles in shows like TODA One I Love (2019), Dahil sa Pag-Ibig (2019), Anak ni Waray vs. Anak ni Biday (2021), Ang Dalawang Ikaw (2021), and more. Lianne has also appeared in movies like Aswang (2011), and Maledicto (2019).
See Also
Relishing in wanderlust
Lianne is in a blue one-piece, highlighting her physically fit body! She goes to the gym. So, it's no wonder why she looks fit. On the other hand, you can see other photos of her in different places, making her fond of traveling.
Woman of God
Lianne has this gorgeous visual that you'll be mesmerized by. She looks graceful in this photo while wearing a white knitted sweater, matched with black pair of pants. In an interview with her home network, Lianne shared that she has a close relationship with God.
As a Christian and a worship leader for their children, she calls herself a woman of God. With Lianne's faith, determination, and love for her craft, she will surely achieve her goals. Her courage and passion are two things that will bring her success.
For more updates on her endeavors, follow her on Instagram. May you grow more as an actress, Lianne!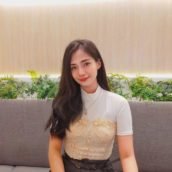 Veronica Louis Gannaban
Nica is a resin artist, watercolor painter, and writer. She loves putting art into life because it feels liberating. She believes that the most powerful form of art is through words, for it can set us free. Her life is sweeter than fiction because of Taylor Swift's music, fur babies, and chick flick movies.