We love Christmas! Everyone loves Christmas, the reason why we plan everything well. In addition, we prepare early for our clothes, house decorations, food, and gifts for our loved ones! Are you having a problem deciding on what to give your family? If you are, here are some of the gift ideas you might consider!
[Editor's Note: These suggestions are just the usual things you can give to your family members with regard to how society views them and how they are portrayed in mainstream media. But always remember that every family member is different and you probably know them best as well as the things they really prefer and enjoy.]
For Papa (Father)
Belt bag, Chest bag, Personalized items, or Clothes
Fathers usually do not like bringing much during their trips and are more likely to bring small bags or wallets. However, using a belt or chest bag will secure their belongings, and unlike other things, it is lightweight to wear.
In addition, you can also give them personalized items like mugs, caps, and any other things you think they will like. Also, clothes are the most common gifts; however, it is the easiest to find. You can buy socks, t-shirts, shorts or even their underwear because these are the things they use every day!
For Mama (Mother)
Bags, Makeup, Clothes, or Cooking materials
Mothers like anything their kids give them, but most mothers love bags and makeup. Notice how they almost have a collection of it! In addition, you can buy clothes they like, based on the clothes they are most likely to wear. If you think those are too common, you can give them cooking tools because mothers cook daily!
For Kuya (Brother)
Wallet, Cap, or Clothes
Wallets are essential for boys. They use it every day and always have it in their pocket. Going out, notice that they wear caps, so if your brother likes it, it is also preferable. Clothes may be ordinary, but it is a nice gift for them too! Just pick clothes based on their fashion style.
For Ate (Sister)
Body accessories, Gadget accessories, Shoes, or Slippers
Most girls love accessories or anything decorative. When it comes to body accessories, you can give her a necklace, ring, earrings, or anklet. And in terms of gadget accessories, you can buy her phone a new case, give her earphones or anything that interest her.
For Bunso (Baby / Youngest)
Toy, Pillows, or Clothes
Kids love toys! They are happier when they receive new toys that they will add to their collections. However, you can give them pillows if they already have many toys! Pillows are soft, and kids love to hug them. In addition, if you think they also have too many pillows, find a cute outfit or clothes they will like, maybe some cartoon character-inspired outfit.
For Tita (Auntie)
Wallet, Clothes, or Cooking Materials
Our Auntie always brings long or short wallets; maybe they need a new one! Clothes are also suggested, like shirts, dresses, trousers or any comfortable clothes. The more they can use it, the better. Cooking material is also an option; if they love to cook, you might think of giving them any cooking materials.
For Tito (Uncle)
Belt bag, Chest bag, Clothes, or Wallet
Like our father, of course, uncles can also be given a belt bag or chest bag. If you think you can easily pick clothes for them, it is also okay. Although it is easy to find clothes, do you know your uncle's size? If not, then go for the next option, which is a wallet. Anyway, do not worry about giving your family the same gift!
For Lolo (Grandfather)
Wristwatch, Wallet, or Clothes
Give your father a wristwatch because older people love to ask, "what time is it?". Also, not all grandfathers have phones, so this will help them track time wherever they are. You can give them a wallet too. He is lucky if you put money inside it! However, if you notice that he lacks garments, then it is better to give them clothes.
For Lola (Grandmother)
Clothes, Slippers, or Rosaries
Most grandmothers love comfortable or loose clothes, so buy them one! Also, not all grandparents can still go to the market to buy their clothes or slippers. I also noticed that grandmothers love to pray every night, which is why you can give them necklaces or bracelet rosaries.
For Bantay (Pets)
Toys, Food, or Clothes
Our bantay or pets helps us by guarding our house, being our friend, and bringing a smile to our faces! To give back to them, give them a gift on Christmas too. You can buy them toys they will play with or food you think they will love. To add, try buying even one piece of clothing for them! Check if they will like it and will feel comfortable.
There are other options and things you can give your families. If you think you cannot yet afford the items listed above, you can give them handwritten letters. Letters can also be called a gift! It is the purest thing you can give a person. Remember that giving a gift is not a measurement of your love towards them. So, anything we got for them is fine. In addition, let us happily celebrate Christmas with our families and enjoy what we have!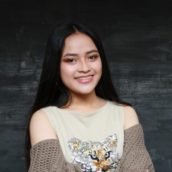 Eslyn Rose Ramos
She is an aspiring individual who loves to share her thoughts and feelings through writing. She aims to be able to make use of her knowledge and skill-sets to their full potential and, at the same time, acquire new learnings throughout her journey of self-growth and discovery.