Cadian Studios Makes Significant Headway Into the 'Creatives' Scene With Remarkable Brand of Storytelling
As a creative and media agency that expands the potential of narrative to make game-changing content via technology or music production, Cadian Studios is now making significant headway and has a bright future ahead of it.
"Ron Pangyarihan, Cadian Studio's 27-year-old founder and CEO, has built a company from the group up. He believes that his talented team of creative strategists, producers, art directors, and sound engineers has what it takes to redefine production and content creation in an exciting new place."
The budding entrepreneur, writer, and music producer is proud to have honed a culture that's built on the foundation of innovation and teamwork, which resulted in earning millions of online media impressions through content that was developed in collaboration with brands and artists.
"Our culture of creativity and collaboration allows us to transform stories into remarkable experiences, says the young CEO. "We dedicate ourselves to the pursuit of putting our clients' ideas into world-class production to create stories that communicate and inspire."
To date, Cadian Studios counts established record labels such as Viva Records, Warner Music, and O/C Records, and Web3 brands based in Singapore (Imaginary Ones and Imaginary Junior) as some of its major clients.
Even though Cadian Studios faced its fair share of difficulties when it first opened its doors, the production company is now in the enviable position of being able to provide its employees with the opportunity to develop into the very best versions of themselves.
"One of the biggest challenges we experienced during our first few months was building a good culture from the ground up," shares Pangyarihan. "Culture impacts the continuity of a company the most. At Cadian Studios, we do not treat people as resources but as humans. Everything we do is a work of art, so I know that every single piece of content that we produce is made with our hearts. I believe the culture of creativity and collaboration will take us far."
Cadian Studios aspires to be at the forefront of creatives and media within the next few years. They want to establish a legacy of respectable magnitude so that they can continue to meet the requirements of the business despite the fact that trends are always shifting.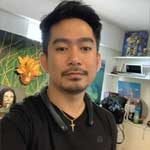 Josh Austria
Aside from being a businessman, Josh Austria has been working in PR and media industry for more more than a decade. From his years of experience as the Marketing and Advertising Head of Village Pipol Magazine, he has built strong relationships with creative people, brands, and organizations.