Joshua Garcia is among the highlights of the upcoming Darna: The TV Series. The 24-year-old actor was chosen as the leading man for what is dubbed as the ABS-CBN's most extensive project of 2022.
Last August 1, ABS-CBN Entertainment and the production of the upcoming show released another trailer, introducing Joshua in his character. The sneak peek naturally draws curiosity among the viewers, who are excited to watch the most recent version of the super heroin.
With only two weeks left before the showing, let us delve into the expectations we have for Joshua Garcia as he stars in Mars Ravelo's Darna: The TV Series:
Joshua in fierce stunts
It was October last year when ABS-CBN named Joshua the main male protagonist of the new Darna. He will play the role of Brian Robles, a police officer with critical contributions to the series. Although Joshua only has a gun to fight, we shall look forward to how he will take on some action scenes.
His love interests
The trailer revealed Brian having hidden admiration for Jane de Leon's Narda. And as a result, it will fuel the vengeance of Janella Salvador as Regina, also the female villain, Valentina. With a love trope involving two female figures, it is interesting to find out how well will Joshua's character progress.
A deep backstory?
The recent Darna: The TV Series clip did not only tease us with Joshua's acting, but it also foreshadowed the plotline. From what we have seen, mystery and revenge are vital elements to shape Joshua's Brian. Hence, that's another thing to anticipate!
Comedic pinch
Do you think romance and action are everything the forthcoming Darna series has? Luckily, the latest trailer confirms otherwise. Like how Joshua justified previous roles with versatility, have faith in Brian to give us the comedic relief needed.
In the plot, we trust
Indeed, the series has already exceeded expectations so far. However, many aspects of the show remain a surprise. For instance, several hints from the trailer point Joshua to endless thought-provoking possibilities. Doppelganger? Split personality? For now, all we can do is wait!
Brought by ABS-CBN, Darna: The TV Series will premiere this August 15, 2022.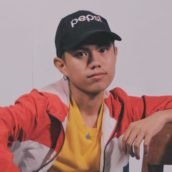 Renzneil Robles
Renzo is an introvert who prefers to do things at his own pace. Unlike most writers, he reads lazily. Watching Korean dramas at night is his constant source of comfort. Although oftentimes commended for being outspoken, he speaks better through writing than with his words.